Sharon Osbourne lands cartoon pirate role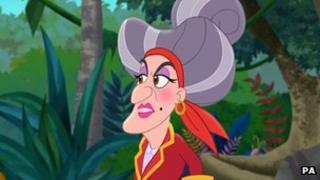 Sharon Osbourne is to play the mother of Captain Hook in hit Disney Junior show Jake and the Neverland Pirates.
The former X Factor judge has lent her voice to Mama Hook in an episode titled Mama Hook Knows Best, to be shown this summer.
Her animated character will be seen trying to mend her wayward son's ways.
"Mama Hook was a pleasure to play and she's quite similar to me in that she's strong and wants her boy to be the best he can be," said the 59-year-old.
Mama Hook is unimpressed when she arrives in Neverland to find her son stealing treasure.
"It's just great to do a job where you don't have to get all made up in the morning - it's all about the voice," Osbourne added.
Osbourne, who is married to rock star Ozzy Osbourne, shot to fame when she starred in fly-on-the-wall documentary The Osbournes, which first aired in 2002.
She went on to become a judge on the X Factor in the UK and America's Got Talent in the US. She currently co-hosts CBS show The Talk in the US.