Russell Crowe cast as Noah in Darren Aronofsky film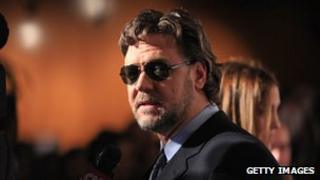 Russell Crowe has been cast as Noah in Darren Aronfsky's film of the same name, the movie's producers have announced.
Paramount Pictures and New Regency Productions confirmed the news following months of rumours that Crowe would play the title role.
Director Darren Aronofsky said: "I rejoice that Russell Crowe will be by my side in this adventure."
The adaptation of the famous Bible story will be released in March 2014.
"I'd like to thank Paramount and Regency for backing my team's work to breathe new life into this biblical effort," Aronofsky continued.
On Crowe, he added: "It's his immense talent that helps me sleep at night. I look forward to being wowed by him every day."
The film will begin shooting in July in Iceland and New York.
Crowe recently spent time in the UK filming scenes for the big-screen adaptation of the long-running musical Les Miserables, in which he plays Inspector Javert opposite Hugh Jackman's Jean Valjean.
Crowe's previous films include State of Play and his Oscar-nominated A Beautiful Mind and Gladiator - for which he won an academy award.
Aronofsky was Oscar-nominated last year for Black Swan, which received five nominations in total, picking up one for Natalie Portman's performance as leading actress.
The director made his feature film debut in 1998 with Pi, earning the prize of best director at the Sundance Film Festival and best screenplay at the Independent Spirit Awards.
He is heading up the jury for this year's Venice Film Festival.