Willie Nelson gets 8ft bronze statue tribute in home town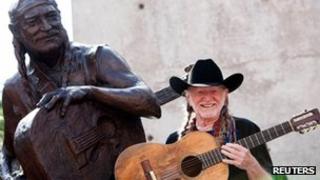 An 8ft-tall bronze statue of country singer Willie Nelson has been unveiled in Austin, Texas, his home town.
The statue features the country music legend sitting on a stool with his acoustic guitar, Trigger.
"I thought he did a pretty darn good job," said Nelson of Philadelphia sculptor Clete Shields.
Lawrence Wright, who helped raise the funds for the statue, said it was not easy to find an artist who could capture Nelson.
"We wanted the sense of connection Willie and his fans have, which is so electric and so human," Wright, a Pulitzer Prize-winning author, told Reuters.
Austin Mayor Lee Leffingwell told the crowd that Nelson made the city of Austin, Texas, the "live music capital of the world".
The town even boasts a Willie Nelson Boulevard.
Among those there to watch the unveiling was musician and actor Kris Kristofferson.
Nelson, 78, still performs regularly and is well-known as a singer, songwriter and actor. His hits include Crazy, which was made famous by singer Patsy Cline.