The Charlatans singer Tim Burgess tells all in new book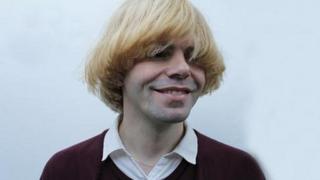 Tim Burgess, frontman of indie rockers The Charlatans, lifts the lid on the ups and downs of being in a rock 'n' roll band and his battle with addiction in a new autobiography.
"I don't think like a book, in chronological thoughts; it's more a question of ideas invading my head and then inviting others in."
- Tim Burgess, 2011
It is, perhaps, not the most promising start to a rock 'n' roll memoir but at least it is honest. And if there is a trait that Charlatans frontman Tim Burgess doesn't seem to harbour, it's dishonesty.
In his new book, Telling Stories, Burgess recounts his journey from teenage music obsessive to becoming frontman of the not-yet-but-soon-to-be Manchester indie darlings.
He reflects on the number one albums and cocaine induced highs and the lows of addiction and tragedy in the form of the incarceration and death of a bandmate and friend.
A book made more difficult for someone who is a self confessed erratic thinker.
"Was it difficult? Yeah, course it was," says Burgess. "I'm not a writer but I spoke into a Dictaphone. I went to Wales with my girlfriend and came back with about 20 hours worth which I transcribed - which was really boring."
An answer which at least proves Burgess resisted the easier option of having a ghost writer tackle the writing - an issue he touches upon in his book referring to the scores of pre-Christmas "autobiographies" by teen pop stars and celebrities.
At age 44, Burgess insists the book wouldn't have been possible during his partying period.
"I wouldn't have thought about writing a book ten years ago. Looking back, I was having too much of a good time and it wouldn't have been a good idea to write a book high on cocaine."
It is Burgess's long-standing relationship with the drug which crops up constantly throughout Telling Stories.
One story in particular, already seized upon by tabloids writers, sees Burgess explain in graphic, gory detail an unorthodox method of getting the drug into the body.
Although now clean and sober, Burgess does not spend chapters extolling the joys of a drug-free existence but neither does he revel in the kind of drug tales told by rocks stars such as Motley Crue's infamous tome, The Dirt.
"I hate that," he says. "I think drug stories are actually quite boring and people that take drugs are quite boring as well. I was boring.
"It's just an odd thing isn't it? You get into something and you think it's fun for a while and I'm fortunate that I could pull away from it."
Death of Rob Collins
One of the more startling admissions for fans of the band comes during Burgess's memories of the death of Charlatans keyboard player - the keyboard thumping Rob Collins.
It was Collins' Hammond organ sound which defined The Charlatans' debut album Some Friendly, released more than 20 years ago.
He was killed when his car crashed in 1996, during the recording of the band's number one album Tellin' Stories.
Prior to his death, Collins was jailed for eight months for his involvement in a farcical armed robbery, driving the "getaway car" for a man with a toy gun.
Following time spent inside, his drug use had become heavier, and according to Burgess had begun to affect not only his moods but his playing.
In the book, Burgess writes: "I pretty much said Rob had to go. We had been recording for seven months at this point making the follow up to The Charlatans... I said, we can't have him in the band any more."
Burgess won't be drawn into saying much more, simply adding Collins had become "just destructive... maybe deep down he was bored".
"Tim-book-two"
A lifelong music obsessive, Burgess fills pages with his favourite bands and albums (New Order's Power, Corruption and Lies is up there) and talks in depth about his continuing music influences.
The band are off to play some gigs in Japan and will return to tour the album Tellin' Stories on its 15th anniversary. Burgess also has a solo album ready to release in 2013.
A swarm of 90s bands like Pulp, Blur, The Stones Roses and the Inspiral Carpets are all reforming to play this year but Burgess cynically suggests the Britpop era " hasn't aged well... it's protagonists have hit middle age with a bump".
So does he worry about those first grey hairs?
"Not at all but there have been stage where I have. It might have been part of the reason why I gave up doing what I was doing because of the vanity aspect, after three months of being clean people said how good I was looking."
Reviews for Telling Stories have so far been fairly positive but Burgess admits it is difficult to define how he will consider if the book is a success or not.
"At first it was just the fact that I finished it and I'm pretty happy with it.
"The interest in it says to me that it's a success now. Sales are the last thing on my mind - I just want people to come back and say that they really liked it."
And is there a potential sequel in the offing? "Yeah," says Burgess, "I'll call it Tim-book-two."
Telling Stories is released on 26 April.