Dame Maggie Smith 'not leaving Downton Abbey'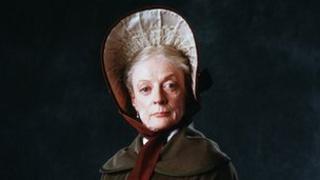 There is "no truth" to reports Dame Maggie Smith is leaving ITV1 hit drama Downton Abbey, according to producers.
A spokesperson for Downton Abbey's producers Carnival said: "Series three is currently filming with Maggie along with the other cast.
"We do not comment on future storylines, however there is no truth in the story that Maggie is leaving the show."
Rumours had been circulating in the UK press that Dame Maggie wanted to leave.
The Daily Mail reported that she had asked series creator Julian Fellowes to write out her character - the no-nonsense Dowager Countess - so she could return to her stage and big-screen career.
Fellowes admitted last month that he hadn't finished writing the third series even though filming was already underway.
The new episodes will be set in the 1920s, covering a period of 18 months in the lives of the Crawley family and the servants who work for them.
Shirley MacLaine is joining the cast as Lady Grantham's mother, with the series expected to air later this year.
Downton Abbey has won numerous awards recently, including the Broadcast award for best drama series and the National Television award for best drama.
More than 100 countries have broadcast rights to Downton Abbey and it has become a huge cult hit in the US.