David Suchet on his journey into Eugene O'Neill masterpiece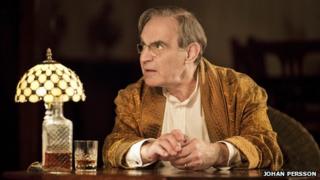 David Suchet talks about his role in Eugene O'Neill's Long Day's Journey into Night, gives his tips on acting drunk on stage and explains how he's managed to avoid being typecast during his long association with Poirot.
It was the play its writer said should never be staged. Eugene O'Neill himself described it as being "written in tears and blood".
Written in 1941, Long Day's Journey into Night was O'Neill's most autobiographical play.
"He had to write this play in order to exorcise his own demons," says David Suchet, who leads the cast in a new production which opened this week at London's Apollo Theatre.
"Playwrights often have to do that, but with Eugene O'Neill I think he knew that he couldn't continue with his life unless this came out at that particular time."
Although O'Neill stipulated that it shouldn't be published until 25 years after his death - and that it should never be staged - the play was first performed in 1956, three years after he died.
It quickly became regarded as a masterpiece of American theatre, and won the Pulitzer Prize in 1957.
Taking the lead role of miserly, drunken former actor James Tyrone, Suchet follows in the footsteps of Laurence Olivier, Charles Dance and Jack Lemmon.
Having seen the play several times over the years, how did he approach the role? "With not too much reverence," admits Suchet, speaking after the opening night.
"You take it one moment at a time. The character changes on a dime - one minute he's loving, the next he's hating. He's the most extraordinarily complex human being who came from the depths of poverty, with so many hidden secrets and regrets."
Tyrone is the patriarch of a fractured family whose story unfolds over a long summer's day in a Connecticut house in 1912.
Suchet is joined in the cast by Laurie Metcalf as Tyrone's morphine-addicted wife Mary and Kyle Soller and Trevor White as their sons, Edmund and Jamie.
The dysfunctional Tyrones were closely modelled on O'Neill's own family.
Like James Tyrone, O'Neill's father was an Irish-born Shakespearean actor who eventually became defined by a single role - in the Count of Monte Cristo - which he played more than 6,000 times over three decades.
O'Neill regarded it as "selling out", and modelled the character of the sick and drunken Edmund in the play on himself.
"The play blames, and it forgives," observes Suchet. "What you're watching is the disintegration of a family. There's no climax, there's no reveal - it just descends into the pit of nothingness."
For much of the play, the characters on stage are either drunk or drugged. At one point Suchet has to wobble on top of a table in order to turn on a ceiling light.
So what's his top tip on how to act inebriated?
"'Try not to be," he says. "I don't know one drunk who just throws themselves around. Everybody tries to stay sober, that's the secret - the danger is just to let it go."
The 65-year-old actor was last seen in the West End in All My Sons in 2010, also at the Apollo. His extensive stage credits include appearances at the National and with the RSC.
But he is best known for his TV incarnation of Hercule Poirot.
Suchet has played Agatha Christie's Belgian sleuth since 1989. When he completes filming a new series of ITV films next year, he will have appeared in every Christie story ever written for Poirot.
But, unlike James Tyrone, Suchet has managed to avoid being typecast.
He puts this down, in part, to having already had a long acting career before Agatha Christie's detective came along. In the 1980s, he made his name in TV shows such as Oppenheimer, Reilly, Ace of Spies and Blott on the Landscape.
"I came to Poirot in my 40s. I'd already had 20 years of being an actor," says Suchet.
"I've managed to do so many other things while I'm doing Poirot. I will always be known for the most popular and the most watched programme - but it's allowed me to have a wonderfully-varied career which James Tyrone never had."
Last month Suchet was the subject of an ITV documentary, People I Have Shot , in which he followed in the footsteps of his grandfather, Fleet Street photographer Jimmy Jarche.
"I've had as much reaction from that as I sometimes get from when I'm acting on TV," says Suchet. "It was phenomenally popular and it took me completely by surprise."
Is he planning to pursue photography as another career? "I'm being asked to publish now, but I haven't really got a portfolio, so I've got to start shooting. But I still shoot on film and I still shoot in black and white!"
Long Day's Journey into Night, directed by Anthony Page, is at the Apollo Theatre, London, until 18 August.