Desperate Housewives star describes 'slap' in court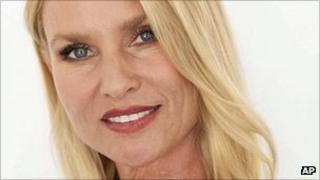 Former Desperate Housewives actress Nicollette Sheridan has told a jury she was shocked and humiliated after being hit in the head by the show's creator.
The star alleges her character, Edie Britt, was killed off in the hit TV show in 2009, after she complained about creator Marc Cherry's conduct.
Lawyers for Mr Cherry claimed it was a "light tap" meant to give the actress some direction for a scene.
Sheridan is seeking $6m (£3.8m) in damages for unfair dismissal.
Jurors heard how the scene that led to the dispute was originally not meant to include Sheridan's character.
Her role was added after several revisions and was a short scene in which Britt needled her on-screen husband about how to write a love song.
'Demeaning'
Sheridan, 48, told the Los Angeles Superior Court that she wanted a funny line to remain in the script, but Mr Cherry resisted because it included part of a Beatles song, for which the studio would have to pay royalties.
During discussions, the actress said Mr Cherry shouted: "What is it that you want?", then hit her with his open right hand.
"It was shocking, humiliating, it was demeaning," Sheridan said.
"I told him, 'You just hit me in the head, that is not OK'."
The actress told the court Mr Cherry appeared stunned after the incident and later apologised to her.
Sheridan's character was killed in a car accident in the show's fifth season. At that stage Sheridan was earning $175,000 per episode, as well as a profit share.
She said although Mr Cherry had left her character's fate in doubt at the end of seasons three and four, he never mentioned killing her off until after the alleged row.
Mr Cherry and TV network ABC have denied any wrongdoing and said they will present evidence that the decision to kill off Britt was made months before his argument with Sheridan.
Defence lawyer Adam Levin said that after five seasons, "writers could only do so much with the character", adding: "There were only so many husbands she could sleep with."
Mr Cherry is expected to testify during the two-week trial, while stars Teri Hatcher, Eva Longoria, Marcia Cross and Felicity Huffman are also listed as potential witnesses.
Desperate Housewives, which began in 2004, is expected to end following its eighth season, which is currently being shown in the US.