Oscars 2012: Foreign film nominees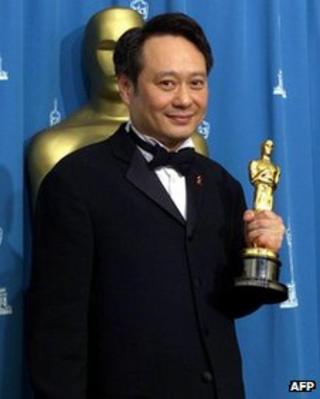 A look at this year's nominees for the best foreign film Oscar, and the convoluted way in which the shortlist is drawn up.
On Oscar night the award for Best Foreign Language Film can get buried beneath more glamorous categories.
Sometimes the winning film achieves international success, but often it sinks into obscurity. And, for the Oscar organisers, selecting the shortlist is a big annual headache.
Even serious film fans may struggle to recall last year's winner of the Academy Award for best foreign language film.
In a Better World, from the Danish director Susanne Bier, had excellent reviews but wasn't seen widely.
Its total global box office takings are a relatively meagre $9.6m (£6.04m).
Ang Lee's Crouching Tiger, Hidden Dragon (2000) and the German movie The Lives of Others (2006) became box-office hits following victory in the same category. Yet there's often criticism of the shortlist, or the winner, or both.
Many Oscar observers claim the selection process is eccentric and frequently ignores deserving films, producing a stodgy list that fails to engage cinema-goers.
The Academy of Motion Picture Arts and Sciences (Ampas), which runs the Oscars, could be forgiven for feeling aggrieved.
The Foreign Language category devours a huge amount of administrative effort, for which Ampas gets precious little thanks.
The competitive category began in 1956, though there had previously been a special award at Academy discretion. The first winner was the Italian neo-realist classic Shoeshine, in 1947.
Today the process of whittling down entries to a shortlist of five is convoluted and works in a way that is totally unlike the other Oscar categories.
Ampas invites submissions of full-length films from national film bodies around the world, one per country. Unsurprisingly, the basic requirement is that it isn't in English (and must be submitted in subtitled form).
A frequent complaint is that a nation with a big industry such as France or Spain can submit only a single movie, putting them on equal footing with Chad or Luxembourg.
The sheer number of films to be seen is a problem for the Academy. This year, it was 63.
Initially, about 300 Ampas members watch a quarter of the submissions each, so typically a volunteer may attend seven or eight double screenings.
Ampas requires that films are seen in cinemas - a much-criticised rule, meaning the panel tends to consist of retired and possibly more conservative members of the voting academy who have ample time on their hands.
The first stage of judging produces a shortlist of six, to which the executive committee can add three titles which it thinks are worthy of inclusion.
These nine are then viewed by panels in Los Angeles and New York to arrive at the final five.
It's a complex, expensive and time-consuming process. Even in the film industry, few people really understand it.
Critics attack the Academy for its reliance on national film bodies whose selection procedures may be opaque. Wouldn't changing the voting system result in more adventurous choices, giving more chance to titles from Africa and Asia?
Some critics think Ampas should be free to add extra titles. But Mark Johnson, who heads the Foreign Language committee, says a bigger field of entry would make an already unwieldy category impossible to organise.
So the Academy will breathe a sigh of relief this weekend when the process finally produces a winner for another year.
Here are rundowns on this year's nominees.
BULLHEAD
Country: Belgium
Language: Flemish
National track record: Five nominations, no wins
Director: Michael Roskam
Story: The film starts out as a crime thriller set in rural Belgium. Its focus seems at first to be the trade in illegal growth hormones for cattle, but the story becomes more complex and personal.
Its central character has received physical and mental injuries in childhood and it is their consequences which come to dominate.
Will it win? Bullhead is very well-acted and makes a gripping movie out of what may appear an unlikely topic. Local references based on French/Flemish linguistic and cultural barriers in Belgium may baffle audiences elsewhere. The melodramatic ending is slightly improbable. In with a chance, though.
FOOTNOTE
Country: Israel
Language: Hebrew
National track record: Nine nominations, no wins
Director: Joseph Cedar
Story: Father and son are respected Israeli academics but while the father is a dedicated Talmudic scholar, his son is a skilled networker with a keen instinct for career advancement.
By mistake the government offers the taciturn father the prestigious Israel Prize, meant for his son. What will the son do?
Will it win? It's essentially a small-scale piece. The plot's premise seems more suited to an out-and-out comedy. It lacks sympathetic characters, although the performances are good. Will it have enough impact to win Oscar votes against strong competition?
IN DARKNESS
Country: Poland
Language: Polish/Ukrainian
National track record: Eight nominations, no wins
Director: Agnieszka Holland
Story: Set in Lvov, a Ukrainian city with a large Polish population, during World War II. A group of the city's Jews hide in the sewers to escape Nazi attempts at extermination.
A Catholic sewer-worker helps them survive, initially for financial gain. As the money runs out he has to decide what to do.
Will it win? A moving and original story of the Holocaust, based on fact and avoiding cliche. One of the strongest works of a well-known director, some scenes are so powerful they're hard to watch. In another year this might be a clear winner.
MONSIEUR LAZHAR
Country: Canada
Language: French
National track record: Five nominations, one win - The Barbarian Invasions (2003)
Director: Philippe Falardeau
Story: Pupils at a Montreal elementary school are traumatised by a teacher's suicide. A middle-aged Algerian persuades the school principal to take him on as a replacement.
Eventually we realise he is not what he claims - but the children have come to love him.
Will it win? Based on a one-man play, it's been criticised for lacking dramatic incident after the initial death. Remarkably, Canada is the only one of the five nations represented this year to have ever won the foreign language film Oscar.
A SEPARATION
Country: Iran
Language: Persian
Track record: One nomination, no wins
Director: Asghar Farhadi
Story: A middle-class couple in Tehran have a troubled marriage. At first the story appears to turn on whether they'll decide to leave Iran with their teenage daughter. Then comes an incident with a woman employed as a care assistant to the family's frail grandfather.
Questions arise of honesty and deceit. The care assistant's husband resents the better-off but less devout family. As a legal and moral crisis develops his manner becomes aggressive. But is he entirely in the wrong?
Will it win? It took last year's main prize at the Berlin Film Festival and won last month at the Golden Globes. It's been praised by critics everywhere and gives a genuine insight into Iranian society. Though some have seen a political agenda, the film dramatises fault lines which exist in most countries. Could Iranian cinema have found its first winner in this Oscar category?
The Academy Awards take place in Hollywood on 26 February.