Guinea pig snap wins Taylor Wessing Photographic prize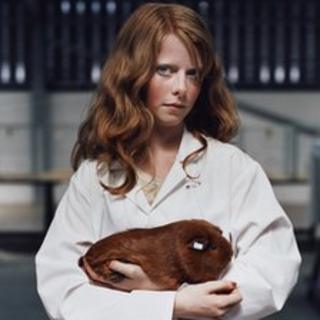 A picture of a 13-year-old girl holding a guinea pig has won this year's Taylor Wessing Photographic Portrait Prize.
Jooney Woodward received £12,000 for her photo of Harriet Power and her cavy Gentleman Jack, taken in the guinea pig judging area at the Royal Welsh Show.
London-born Woodward, 32, was presented with her award at the National Portrait Gallery in London on Tuesday.
Four additional photographers received runner-up prizes ranging from £500 to £2,500 for their shortlisted portraits.
Woodward used natural light to take her shots of Ms Power, a steward at the Royal Welsh Agricultural Show in Builth Wells, Powys.
According to the artist, her work "celebrates the people and places as they appear every day".
Woodward has previously exhibited at Moma Wales in Machynlleth, Powys
Sandy Nairne, director of the National Portrait Gallery, said the winning image presented "a brilliant, empathetic study of a young woman".
The final shortlist of five was determined by a panel of judges from more than 6,000 submissions.
Sixty of the submitted portraits will be exhibited at the National Portrait Gallery from 10 November to 12 February.
Last year's top award went to David Chancellor for his portrait of a teenager from Alabama on her first hunting trip to South Africa.