Roger Taylor recruits Queen tribute band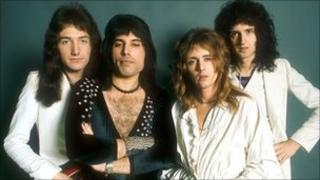 Drummer Roger Taylor is to put together an official Queen tribute band to tour the US in 2012.
The band's drummer told Rolling Stone that a lot of the existing tribute acts were "not up to scratch" and he wanted a group who would "do it properly".
Queen Extravaganza would feature unseen footage and the band's "production values", he added.
Since Freddie Mercury's 1991 death, Taylor has played alongside Brian May with singers including Paul Rodgers.
"We can still do it, but I don't really think I want to travel around the world doing it anymore," he told Rolling Stone.
He said performing without Mercury - who would have turned 65 earlier this month - had "made it difficult for the last 20 years".
"It's a big hurdle, [but] this is a way of keeping our music alive and doing it to our standards," he added.
Taylor said he was currently designing the show, deciding which tracks should be included and sifting through hours of footage.
"Some of it's never been seen. There's stuff from as early as 1973 and even earlier," he said.
Queen were best known for hits such as Bohemian Rhapsody, We Will Rock You and We Are The Champions.
Prospective band members, who must be US residents, are invited to upload audition videos to the Queen Extravaganza website by 7 November.