RTS: Jeremy Hunt sets out cross-media regulation plans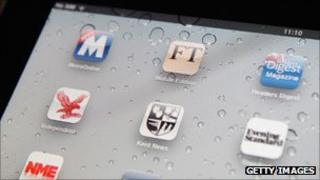 Every two years, television's leaders gather in Cambridge at the Royal Television Society convention, to discuss the big issues of broadcasting, and hear the secretary of state lay out the government's latest thinking in a keynote opening speech.
Often it's been about the future of the BBC.
But these days television can no longer be discussed in isolation. The convergence of broadcasting and the internet means TV companies now compete with newspapers, video companies and others on the web, in a fierce battle for audiences and advertising.
Traditional ways of regulating the media need updating, Mr Hunt told his audience, in a speech that seemed to say less about television than any previous Royal Television Society ministerial speech I can remember.
Outlining plans for a new Communications Bill, Mr Hunt said a cross-media approach to regulation was vital, as broadcasters, newspapers and internet companies developed new products for smartphones, tablet computers, and web TV.
Following the phone-hacking scandal, he challenged newspapers to help develop a new system of regulation.
He said he did not want newspapers to face statutory regulation, as broadcasters do, but they must have a robust system with credible sanctions - free from interference by politicians and by media owners.
"Our free press has served us incredibly well," he said. "So we don't want any changes to result in the back door imposition of statutory broadcast-style regulation. But if we are to avoid this, the public will insist on a system of robust, independent regulation with credible sanction-making power."
Piracy crackdown
Mr Hunt stressed he was not going to pre-empt Lord Justice Leveson's inquiry, which has been asked to make recommendations on newspaper regulation - but he called on newspapers to ensure that any new system included their content on video and the web as well as in print.
He said it could not be sensible for the papers' print versions to be regulated by the Press Complaints Commission, their web TV by Ofcom, and their on-demand websites by a third regulator.
Mr Hunt also urged internet companies and search engines such as BT and Google to help block pirate websites, and ensure that parental controls are activated to protect children from offensive material on the web.
And, after the abandonment of Rupert Murdoch's bid for full ownership of the satellite broadcaster BSkyB, he's asking the media regulator Ofcom to suggest new ways of measuring cross-media power.
As for the BBC? Hardly a word.