Marc Bolan show brings 20th Century Boy to 21st Century fans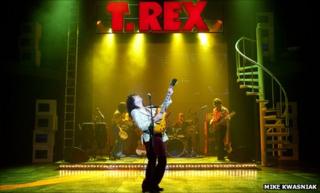 As a musical about glam rock superstar Marc Bolan has its world premiere in Ipswich, its producers explain why it is good news for Bolan fans and for regional theatre.
With his feather boas and glittery cheekbones, Marc Bolan was one of most familiar faces of the glam rock era.
The T. Rex star also wrote some of the greatest riffs in rock - his songs included Get It On, Ride a White Swan, I Love To Boogie and Children of the Revolution.
Now Bolan's story is being told in a brand new musical 20th Century Boy, which coincides with the 34th anniversary of the singer's death in a car crash on 16 September 1977.
"The story was crying out to be told because Marc Bolan has been left in time as this glam rocker with the focus on make-up and costumes," says the musical's director Gary Lloyd.
"This musical also shows him as a prolific artist with a fascinating life story."
It is familiar territory for Lloyd, whose many theatre credits include directing and choreographing the Michael Jackson musical Thriller Live! in the West End.
He first "workshopped" the show three years ago with Bolanic Productions, who had cleared the performance rights for Bolan's songs.
The show's writer, Peter Rowe, is artistic director at Ipswich's New Wolsey Theatre, where 20th Century Boy opened on Tuesday.
As Rowe explains, the partnership with Bolanic Productions is an example of how regional theatre is turning to collaborations as artistic budgets are being squeezed.
"We are all being encouraged to diversify our income all of the time," says Rowe.
"We've been moving over a number of years towards bigger shows in collaboration with other regional theatres and commercial producers.
"It's a strategy that we've adopted partly to share the costs, and give a longer life to the show in other venues - and we hope in the long term that if a show like this becomes successful then the theatre gets a return.
"And it provides a big exciting premiere for our local audience."
Screaming fans
Told over four decades, the musical views Marc Bolan's life through the eyes of his son Rolan, who was just under two years old when Bolan died.
The singer was being driven home by his girlfriend (and Rolan's mother) Gloria Jones when she lost control of the vehicle and it hit a tree on Barnes Common in south-west London.
Bolan was killed instantly and she was badly injured. The rock star was just a few days short of his 30th birthday.
Rolan, who is now 35, settled in Los Angeles and became a musician.
It wasn't until this year that Rowe and Lloyd decided to put Rolan at the heart of the musical. His character is on a quest to find out about his father.
A scene early in 20th Century Boy shows Rolan (played by Craig Storrod) in an emotional exchange with Gloria Jones (Donna Hines) about her memories of Bolan.
She grabs a remote control and a giant screen leaps to life with screaming fans.
Suddenly, the stage doors burst open and Marc Bolan (George Maguire) and T. Rex emerge in a blaze of light playing Metal Guru.
Lloyd explains: "I went over to LA and met Rolan and Gloria and took them through the script. They gave it their blessing. Rolan is flattered to be the storyteller.
"They were very thankful we were putting Marc back on the map, but it's very strange for them to have it all dragged up again."
He adds: "It really helped hearing stories about Marc from Rolan and Gloria that I could feed back into the play.
"Marc lived his life in front of the camera in a way that parallels how celebrities and and reality TV stars do nowadays.
"He was a very funny guy, so we've brought a lot of that humour out in the show."
George Maguire, who plays Bolan, admits he didn't know much about the singer before he took the role.
"I'd heard of T. Rex and knew a couple of songs, but now I'm hooked, I've become a fan," he says during a break in rehearsals.
Maguire sings and plays live in the musical, which features 27 hits and rarities from Bolan's back catalogue.
What aspects of Bolan's personality does the actor admire?
"His determination and drive to achieve," says Maguire. "When he decided he was going to be a musician he would lock himself in a room all day and write songs.
"He made these prophecies - he always thought about his own mortality and thought he might go early, so there was this need to get it all done.
"I think that's why the show is so fast-paced - because he lived life at 100 mph."
20th Century Boy was written by Peter Rowe in association with Gary Lloyd, based on an original idea by Brian Dunham, Colin Giffin and Nicky Graham. It runs at the New Wolsey Theatre, Ipswich, until 1 October.