Coronation Street actor breaks world record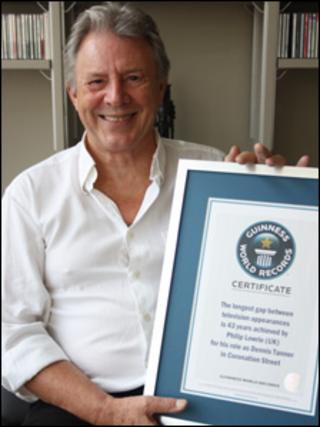 Coronation Street actor Philip Lowrie has broken the world record for the longest gap between TV appearances in the same show.
Lowrie, who first appeared as Dennis Tanner in the soap's debut in 1960 and stayed until 1968, re-joined the cast in May this year after 43 years.
"I've always been proud to have been a member of the original cast of Coronation Street," said Lowrie.
"Now I'm doubly proud to be honoured in the Guinness World Records book."
The wedding of the Duke and Duchess of Cambridge created a new record for most live streams of a single event, after 72 million people watched the ceremony live online on The Royal Channel, the official YouTube channel for the monarchy.
"We are thrilled that we were able to help enable millions of people from across the world to watch and enjoy the royal wedding," said a spokesperson for Clarence House.
Other entries which will appear in the Guinness World Records 2012 edition include three new records set by singer-songwriter Adele, including first female to have two singles and two albums in the UK top five simultaneously.