Spooks to take on Downton Abbey in Sunday drama slot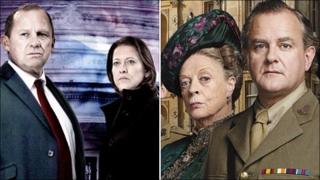 The final series of BBC One's spy thriller Spooks is to go head-to-head with ITV period drama Downton Abbey on Sunday nights.
Previously, Spooks had always been broadcast on a weekday. The last series, which was screened on Mondays, attracted about six million viewers.
The BBC said it wanted to make the last series a "special event" by screening it during the Sunday night drama slot.
Both shows begin on Sunday, 18 September at 21:00 BST.
"Downton and Spooks are very different shows and offer a real alternative for audiences," the BBC added.
ITV and BBC made the official announcement of their weekend schedule on Wednesday, although Downton's start date had already been published in several weekend supplements.
ITV also recently announced that Martin Clunes' successful series Doc Martin was being moved to Monday - the night Spooks would normally have been broadcast.
Minor overlap
A BBC statement said: "This is the last ever series of Spooks and we wanted to celebrate this and make it a special event for viewers in the Sunday 9pm slot.
"It is not unusual for drama to go up against drama here, for example, David Tennant's Single Father did last year, and ITV's Vera was up against BBC One's Exile earlier this year.
Jane Featherstone, chief executive of Kudos Film & Television - the company which created the drama - said in August the final series would focus on Harry Pearce (Peter Firth) and a guilty secret that could destroy his relationship with Ruth Evershed (Nicola Walker).
Downton Abbey, created by Julian Fellowes, stars Dame Maggie Smith and Hugh Bonneville.
The first series was largely concerned with a noble family's need to find a suitable heir for their country estate. It ended with the outbreak of the World War I, which will form the backdrop for the new episodes.
The Sunday night scheduling announcement comes just a month after BBC One controller Danny Cohen, said he wanted to make sure the new series of Strictly Come Dancing did not clash with ITV's The X Factor.
Speaking at the MediaGuardian Edinburgh International Television Cohen he said: "I'm not massively interested whether we beat it or not."
Strictly begins this weekend on Saturday, screening earlier than the X Factor double bill.
In recent years there has only been minor overlap of the two successful programmes.