News of the World rivals celebrate sales boost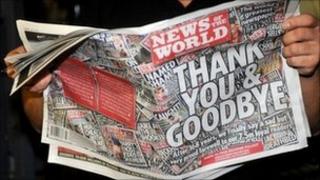 The News of the World's tabloid rivals are celebrating big sales increases following the closure of the paper.
The Sunday Mirror picked up the most new customers with average sales for July of 1,786,454 copies - almost 700,000 more than in June.
Daily Star Sunday was the big winner in percentage terms, selling an average of 703,632 copies - 130% up on June.
The UK's biggest-selling Sunday paper was closed on 10 July as a result of the phone-hacking scandal.
The Sunday Mirror's July sales represented an increase of 64% month on month and 55% up on July last year.
Its Trinity Mirror stablemate, the People, sold 806,544 copies in July - a rise of 70% on the previous month and 50% on the previous year.
Meanwhile, circulation of the Daily Star Sunday, published by Richard Desmond, was 90% more than a year ago.
Desmond's Sunday Express added 20% per cent more sales, month on month, rising to 648,806.
And sales of the Mail on Sunday grew by 17% compared with June, to 2,255,399.
Increase disguised
Following the closure of the News of the World, it is now Britain's biggest-selling Sunday paper "by a substantial margin", its publishers said in a statement.
It went on: "The figures reveal that the Mail on Sunday sells more copies than all its rivals in the Sunday quality market put together - the Sunday Times, Observer, Sunday Telegraph and Independent on Sunday."
Altogether, the five Sunday tabloids added nearly two million copies compared with June.
All had printed more copies and poured money into promotions or price-cutting in a bid to grab the lion's share of the News of the World's circulation, which was 2.6 million in June.
That still leaves a gap of over 600,000 copies.
Does this mean that many News of the World buyers decided not to buy a Sunday paper at all, as some analysts had predicted?
Not necessarily.
The gains of the other tabloids were probably even higher than reported.
That is because the Audit Bureau of Circulations, which compiles the figures, takes an average of the sales across the whole month.
This disguises the increases, which will all have taken place in the last three Sundays in July.
August's figures should help establish whether the Sunday tabloids have held onto their July windfall.