Desperate Housewives to end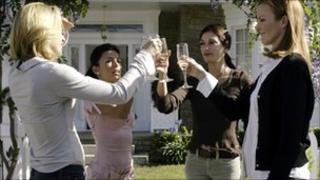 The next series of Desperate Housewives will be the last, TV network ABC said.
Its creator Marc Cherry told a gathering of TV critics in Los Angeles he wanted the show to go out "in the classiest way possible".
ABC says the eighth series, which will run in the US from 25 September to May 2012, will be "a victory lap".
The international hit show, which tells of the lives and loves of neighbours in Wisteria Lane in the fictional suburban town of Fairview, began in 2004.
The Golden Globe and Emmy-winning show, which stars actresses including Teri Hatcher, Felicity Huffman, Eva Longoria and Marcia Cross, has seen ratings fall in recent years.
'Bittersweet and lovely'
"The only thing harder than creating a hit show is knowing when to end, especially when you have one of most amazing casts in the history of television," Cherry told reporters.
"I am very aware of people overstaying their welcome.
"I wanted to got out while the network still saw us as a viable show, while we were still a force to be contended with."
He said he and ABC had "made this decision together".
Calling cast members to tell them the news had been "bittersweet and lovely", he added.
"I think you are going to find they are smart enough to be grateful," he said.
ABC said the final series of the show, which is aired in the UK on Channel 4, would include more love affairs, disintegrating marriages and guilty feelings about a murder.