Johnny Vegas sitcom Ideal is axed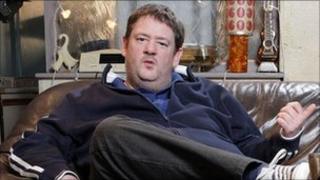 BBC Three sitcom Ideal, which stars Johnny Vegas as a small-time drug dealer, has been axed after seven series.
The channel's controller Zai Bennett said he had to make room for new shows.
The last series, which ended in June, was watched by an average of 560,000 people per episode.
Writing on Facebook, scriptwriter Graham Duff said: "The reason given was that the new channel controller wanted to make a clean sweep."
Duff, who also plays Brian in the show, continued: "It is a source of both pride and frustration that, at the point of cancellation, Ideal was attracting its biggest ever audiences, its highest profile guest stars and its best ever reviews.
"And the show is now being screened in more countries than ever before - from America to Finland and beyond."
New comedy
The comedy, which is set in Salford, began in 2005 and was made by the BBC and Steve Coogan's production company Baby Cow.
Bennett said: "I'd like to thank Baby Cow, Graham and Johnny for seven superb series of Ideal on BBC Three.
"The channel is very much about new comedy and we have to try to make sure we have the room to give new writers and stars the same chance that Ideal had six years ago."
Stars who have made appearances include Alan Yentob, Paul Weller, Kara Tointon, Rula Lenska and The Fall singer Mark E Smith as Jesus H Christ.