Two Pints of Lager and a Packet of Crisps is axed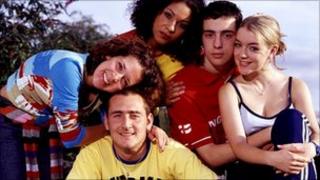 BBC Three sitcom Two Pints of Lager and a Packet of Crisps has been axed after a decade.
Channel controller Zai Bennett said the series about a group of Runcorn twentysomethings was being cut to make way for new comedy.
"BBC Three is all about giving new writers a chance to break into TV - it's now time to give that chance to others," he said.
The sitcom ran for nine series and 80 episodes.
"Two Pints has played a hugely successful and colourful part in BBC Comedy for over 10 years," said Cheryl Taylor, controller of comedy commissioning.
"We are indebted to the show's creator Susan Nickson for the brilliant characters she created and for her many vibrant scripts."
Nickson, who began writing the series when she was just 18 years old, said she "wholeheartedly believes it's the right decision for us all to move on".
"The crew, the fans, the actors and the writers have become like family over the life of the show in that I see them once a year and ask for money," Nickson said.
"I'm thankful that we connected to such a large audience for such a long time and brought such happiness to a lot of people and a lot of enjoyable rage to many others," she added.
The series first began on BBC Two in 2001 before moving a year later to BBC Three.
Featuring former Hollyoaks stars Will Mellor and Natalie Casey, it also helped launch the careers of Ralf Little and Sheridan Smith.