Captain America displaces Harry Potter in US film chart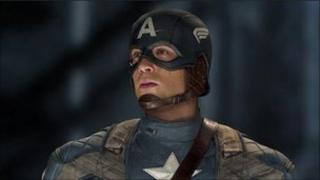 Superhero film Captain America: The First Avenger has knocked the final Harry Potter film off the top of the North America box office chart.
Captain America made $65.m (£40.4m) in its debut weekend in the US and Canada, according to early estimates.
Harry Potter and the Deathly Hallows Part 2 was in second place, with takings of $48.1m (£29m).
That was in stark contrast to its record-setting opening of $169.2m (£103.9m) last week.
Captain America stars Chris Evans, Tommy Lee Jones, Dominic Cooper and Samuel L Jackson.
The film follows a young soldier called Steve Rogers (Evans) who undergoes a series of experiments and is transformed into a human weapon.
Part of the movie was shot in Manchester, where the city's Northern Quarter was given a 1940s New York makeover.
Another new release, Friends with Benefits, opened at number three, taking $18.5m (£11.2m).
The romantic comedy stars Justin Timberlake and Mila Kunis.
Rounding out the top five were Transformers: Dark of the Moon and another debut, Horrible Bosses.
The film is about three friends who try to get rid of their employers, with the bosses played by Kevin Spacey, Colin Farrell and Jennifer Aniston.