Celebrating 40 years of Marvin Gaye's What's Going On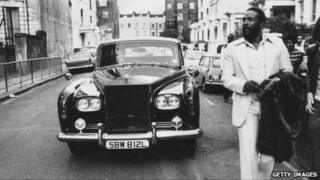 This May marks 40 years since the late singer/songwriter Marvin Gaye released the groundbreaking album What's Going On. It changed the sound and subject matter of soul music and has influenced and inspired musicians since. The BBC World Service marks the event.
By 1970 Marvin Gaye had released 10 albums, all produced under the protective and watchful eye of Motown founder Berry Gordy.
"Marvin's first recordings were jazz songs," says Motown legend Smokey Robinson, a close friend of Gaye. "But he was very keen to be taken seriously as a crooner, similar to Frank Sinatra. Nat King Cole was his singing idol."
But none of Gaye's torch songs were successful and in 1962 A&R director at Motown, Mickey Stevenson persuaded him to record some R&B songs.
Speaking to the BBC in 1976, Gaye said of those years: "I don't view them with a lot of happiness. Being young and not knowing the business a great deal and trying to figure it out."
In 1965 he moved into a more sophisticated soul style epitomised by the song How Sweet It Is.
To capitalise on his image as a ladies' man, Barry Gordy teamed Gaye up with one of the Motown's leading female vocalists Tammi Terell.
They scored a series of hits until their success was tragically cut short.
While they were performing in 1967 Terell collapsed on stage, the first evidence of a brain tumour that killed her in 1970.
Terell's collapse and subsequent illness spooked Gaye and he refused to perform again.
'Very sincere'
After her death he withdrew into a depression.
His mood was compounded by other personal problems - his marriage was crumbling and he was having continual arguments with Motown over the material they wanted him to record.
His brother Frankie, had returned from a three-year tour of duty in Vietnam and Gaye was inflamed by the tales of social injustice he told.
Before drawing into a self-imposed seclusion for a year he recorded the song Abraham, Martin & John.
"I was very sincere when I recorded that song," he told the BBC. "It may very well have been responsible for the What's Going On album."
While it seemed that Gaye had turned his back on recording, the genesis of What's Going On was happening in other quarters.
The idea for the original song came from Ronald "Obie" Benson of the vocal quartet, the Four Tops.
While on tour in San Francisco he witnessed a violent street conflict where police were beating up peace protesters.
He started writing the song with Al Cleveland and though the Four Tops weren't interested, he knew its sentiment would appeal to Gaye.
Creating a vibe
In the meantime while turning his back on music, Gaye had decided to try out for the Detroit Lions football team. He failed trials but made some lasting friends.
When Benson and Al Cleveland dropped round to pitch the song to him he was sitting around the piano working on an idea with two of the players who would later appear on the track.
"Football players are very good at talking it up and getting a conversation going," Gaye later said in an interview. "You just have to hold down the profanity."
The crew that would create the legendary song was nearly assembled.
Gaye still had no intention of going into the recording studio but Benson and Cleveland managed to convince him to record.
He brought in the Funk Brothers to avoid anything that was too similar to the Motown beat.
Bass player Bob Babbitt described the atmosphere in the studio like nothing he had experienced before: "I remember walking in there and just feeling at home."
This was an integral part of the vibe that Gaye was trying to create.
Motown producer Lamont Dozier was also there: "All the noise, the laugh and chatter in the background, that was all part of the scene," he says.
"Marvin was just sitting off to the side watching all this stuff wondering if people really realised what was going on in this world."
'Divine project'
The album contained songs not just about Frankie Gaye's experience of war but also about drug addiction, child abuse, spirituality and social injustice.
It was one of the first albums to truly speak out about social ills.
"I was incensed so I wrote and produced," said Gaye. "I wanted to write an album that could be translated into other languages and not particularly be an ethnic statement, that could translate into other conditions.
"It was a very divine project."
Motown's Berry Gordy hated it and refused to release the album. He felt this new political Gaye was too far from the sex symbol he had created.
But when Gaye refused to record anything else, the single What's Going On was released. Soon after its huge success the album followed.
What's Going On was significantly different to anything that had gone before and captured a unique social zeitgeist.
"There are some pieces of music that are timeless, they were created from another universe," says Mary Wilson of The Supremes. "He was able to capture his thoughts with what was going on in the world."
This was a concept album, not just a bunch of singles. Lamont Dozier describes it as "almost a constant chant that keeps pounding into your head".
"It gets you to understand that there has to be change in this world and we can only do it ourselves by coming together as a people."
For Dozier, the legacy of this album is profound.
"To know where you are going as an artist you have to listen to Marvin," he says.
"As long as people want to play music they are going to listen to Marvin Gaye. It's an iconic album and it's going to be around forever."