Jojo Moyes wins Romantic Novel of the Year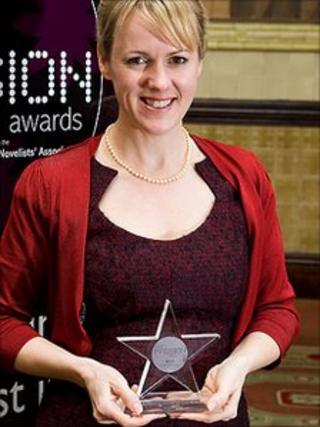 Author Jojo Moyes has won Romantic Novel of the Year for her book The Last Letter from Your Lover.
The Romantic Novelists' Association (RNA) said the judges praised the novel for its "exquisite writing" and "blissfully satisfying ending".
Moyes was presented with her prize at the Pure Passion Awards in London.
Writers Josephine Cox and Penny Jordan were also honoured with outstanding achievement awards for their contributions to the genre.
Katie Fforde, chair of the RNA said Moyes, who also won the award in 2004, was "a worthy winner in a very strong list".
Other contenders for the prize were Amazir by Tom Gamble, Kissing Mr Wrong by Sarah Duncan and To Defy a King by Elizabeth Chadwick.
Kate Furnivall's The Jewel of St Petersburg and The Golden Prince by Rebecca Dean were also nominated in the category.
Josephine Cox - who has authored 43 novels in the last 23 years, selling 24 million copies in the UK alone, said: "I am thrilled and delighted to be receiving such a prestigious award.
"It's something I never expected and I would like to thank all those concerned for thinking I am deserving of it."
Three other awards were presented at the London ceremony with the Historical Novel prize going to Elizabeth Chadwick and Jill Mansell's Take a Chance on Me picked up the Romantic Comedy award.
The winner of the Love Story of the Year was Louise Allen with The Piratical Miss Ravenhurst published by Mills & Boon.