Charlie Sheen: Hollywood's fallen star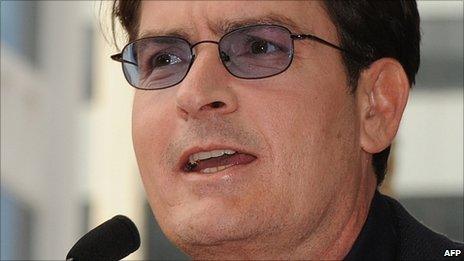 In a move many saw as inevitable, Hollywood star Charlie Sheen has been fired from his hit US sitcom after a downward spiral in his personal life that played out in public.
Two and a Half Men, about an irresponsible writer of advertising jingles who finds his nephew on his doorstep, was a runaway success when it made its debut on US network CBS in 2003.
Shown in nearly 50 countries worldwide, the programme was a ratings hit and is still the most-watched sitcom in the US, averaging around 15 million viewers every week.
The $1.25m (£773,000) Sheen received for each episode saw the 45-year-old become the highest paid actor on American television.
Yet the star's role as a hedonistic, womanising alcoholic was indicative of his life behind the camera as well.
Sheen - the son of Hollywood veteran Martin Sheen and the brother to actor Emilio Estevez - got his big break in 1986 in Oliver Stone's Vietnam movie Platoon.
He went on to appear in Stone's Wall Street, the western Young Guns and action thriller The Rookie, opposite Clint Eastwood.
By the mid-1990s, however, the actor's partying lifestyle had become tabloid news and led to a stint in rehab.
In 1995 he was arrested and put in hospital for cocaine use. The same year he admitted under oath to spending nearly $50,000 (£31,000) at a brothel run by "Hollywood madam" Heidi Fleiss.
In 1997 Sheen pleaded no contest to misdemeanour battery charges against former girlfriend Brittany Ashland. He was given a year's suspended sentence and two years' probation.
Less than a year later he was taken to hospital again following a near-fatal overdose and was ordered back to rehab.
By 2000 Sheen had mended his ways enough to be cast as Michael J Fox's replacement on the sitcom Spin City.
In 2002 he married actress Denise Richards, with whom he had two daughters. But they divorced three years later after Richards complained of Sheen's drug abuse and alleged death threats.
Sheen married the actress Brooke Mueller in May 2008. She would later give birth to twin sons.
In December 2009, he was arrested and charged with assaulting and threatening to kill her.
Two months later he entered rehab again, forcing him to take a three-month break from Two and a Half Men.
Not long afterwards, he hinted he was prepared to leave the show if his request for more money from programme makers Warner Bros was not met.
Last October the actor was accused of causing damage to a New York hotel room. After security reported him, the actor voluntarily went with authorities for a psychiatric evaluation.
The incident was played down by his publicist, who said he had gone to hospital because he had had "an adverse allergic reaction to some medication".
The star went on to file for divorce from Mueller, citing irreconcilable differences.
In January he was taken to hospital after suffering severe abdominal pains - the result, it was reported, of a two-day "marathon party".
A day later Warner Bros executives ordered Sheen to seek treatment and temporarily shut down production on the show so he could enter rehab.
Within two weeks the actor said he was ready to begin shooting again after self-healing his addictions.
But production was cancelled after Sheen phoned in to a US radio show to criticise the show's creator, Chuck Lorre.
In a rambling rant he made a series of bizarre statements, including calling himself a "high priest" and a "Vatican assassin-warlock".
He continued his attack on Lorre in numerous unusual US talk show appearances over the space of a week.
"I am on a drug, it's called Charlie Sheen," he told ABC's 20/20 programme. "It's not available because if you try it, you will die.
"Your face will melt off and your children will weep over your exploded body."
It was only a matter of time before Warner Bros took action.
In an 11-page letter to Sheen's lawyers, the studio's lawyers said "the totality of Mr Sheen's condition, statements and escalating destructive behaviour" made production "untenable".
It was "clear", they continued, that the actor "does not believe he has a problem and that he will continue to conduct himself in a destructive manner".
"In halting production of Two and a Half Men for the remainder of the season and suspending Mr Sheen's employment on the show, Warner Bros took the only responsible action open to it.
"Warner Bros would not, could not, and should not attempt to continue 'business as usual' while Mr Sheen destroys himself."
The studio has not yet confirmed whether the show will continue without Sheen, if at all.
And although other stars - among them John Stamos, recently seen on Glee - have been tipped to fill his shoes, it is likely ratings will take a hit.
It remains to be seen whether Sheen can recover from his latest fall from grace.
Wherever he goes from here, though, the world will surely be watching.