Sophie Thompson on Clybourne Park's squirm factor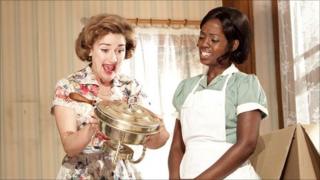 As Clybourne Park transfers to the West End, actress Sophie Thompson reflects on the play's ability to shock.
Bruce Norris's racial satire Clybourne Park made audiences laugh and squirm in equal measure when it played at the Royal Court last year.
The script leaves almost no taboo untouched as the action unfolds in a Chicago property in 1959, and then revisits the same location in 2009. Cast members play different characters in each half of the play.
Clybourne Park opens at the Wyndham's Theatre this week with Sophie Thompson reprising her roles as Bev, a robotically cheerful 1950s housewife, and Kathy, a loud-mouthed 21st Century lawyer.
The roles have just earned her a nomination for best actress at this year's Laurence Olivier awards.
With final previews under way, Thompson admits she has enjoyed the experience of teasing new nuances out of the script second time round.
"There's something quite musical about Bruce's writing. It's been lovely to rediscover it and make some different choices," she says.
"Wyndham's is a beautiful old theatre. The sensation on the stage isn't as different as you might think from the Royal Court.
"But there are two extra layers of seating, so we're having to look up a bit more."
Verbal duel
In the play's first act, white couple Russ and Bev are selling their home in Clybourne Park at a knockdown price.
This enables the first black family to move into the neighbourhood, creating ripples of discontent among the other residents.
Fifty years on the tables have turned, and a white couple find a similar response when they plan to rebuild the house in what is now a black neighbourhood.
The second act features a verbal duel of racist jokes that may leave members of the audience unsure whether to explode with laughter or outrage.
"There are certain areas in the play where you wonder how it's going to go," says Thompson.
"You do get the sense sometimes that the audience can't believe their ears, but they also delight in the dark nature of it."
There is one joke in particular, uttered by Lorna Brown as the glamorous Lena, that trumps all the others.
"That is a moment I always look forward to," admits Thompson. "It gets an extraordinary reaction."
With three theatre awards already under its belt, Clybourne Park looks set to repeat the trajectory of the Royal Court's hit comedy Jerusalem which enjoyed a West End transfer in 2010.
"Awards are always a pleasant surprise," says Thompson. "They are the candy-floss parts of our job - a lovely added extra to attract people's attention.
"The bottom line is that you want to sell tickets."
'Bizarre job'
Clybourne Park was originally staged in New York in February 2010. The Royal Court version, directed by Dominic Cooke, opened last August.
Martin Freeman is absent from the West End production, due to commitments on the Hobbit films in New Zealand.
Thompson spent time after finishing at the Royal Court filming BBC ghost story Whistle and I'll Come to You alongside John Hurt, broadcast over Christmas.
She also appeared in last year's Harry Potter and the Deathly Hallows: Part 1, playing the Ministry of Magic's Mafalda Hopkirk.
(Her elder sister, Emma, played Professor Trelawney in two previous Potter films.)
"Deathly Hallows was a bizarre job," says Thompson. " I was on it for about 12 days over a year.
"It was an epic thing to be a part of. I'm glad I got a taste of it."
Yet her sons were not so impressed by her role in the magical franchise. "I remember coming home and saying, 'Today we got chased by Dementors!' And they just said, 'Yeah, OK, what's for tea?'"
Thompson's most famous TV role was as the unhinged lawyer Stella Crawford in EastEnders. Given the recent controversy over the baby-swap story, did Stella's child-abuse plotline spark any complaints?
"I suppose it was more a wicked stepmother story," she says. "I was quite surprised how nice people were. I got some really lovely letters."
Thompson has not been keeping up with events in Albert Square. "I guess part of drama's mission is to stir the pot, so perhaps they over-stirred, but I don't know - I didn't see it.
"But it can be positive if it means people are discussing things."
Clybourne Park runs until May. Beyond that the 49-year-old actress has no concrete plans.
"I try not to think too far ahead. My mum [actress Phyllida Law] always said 'Don't think any further than dinner or tea', and I find that very helpful!
"We're here for a few weeks and I'm relishing the opportunity to do this play again."
Clybourne Park opens at the Wyndham's Theatre on 8 February.