Robyn: The anatomy of Body Talk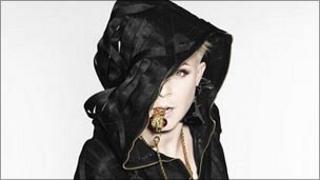 "I was looking at the early Prince records the other day," says pint-sized Swedish pop star Robyn.
"Almost all of them are really short. Eight or nine songs. So is Thriller.
"I think that's the natural size for a record."
Robyn has been thinking a lot about albums this year. Which is no surprise, because she's released three of them. In six months.
Following her instincts, the first two - Body Talk Parts 1 and 2 - both contained eight songs. The third instalment, out this week, compiles the best tracks from those earlier records, and squeezes in a further five new recordings.
"Producing 15 or 20 songs at once is a lot of work if you want all of them to be good," Robyn explains.
"It creates a constipated half-way of dealing with your fans and your music. It doesn't feel natural, there's no flow in it."
Body Talk was dreamed up as a "pretty selfish" way of creating that flow.
Harnessing modern technology, Robyn can record new songs anywhere in the world, send them back to her label, release them almost instantaneously and hit the road for a couple of weeks, before starting the cycle all over again.
"It's just a logical development," the singer says.
"If you look at how the industry is changing and how people are consuming music, it makes sense."
Given Robyn's affection for Prince - she's covered both When Doves Cry and Jack U Off - it cannot have escaped her attention that the Minneapolis musician had the idea first.
The difference was when he mentioned it to Warner Brothers in the 1990s, they laughed him out of the building, saying it would be impossible to market so many albums in a year.
The subsequent fall-out contributed to his infamous "slave" protest, during which he dutifully released one album a year.
In Robyn's case, the plan got the go-ahead - but then she has the distinct advantage of being president of her own record company.
Cookie cutter culture
It wasn't always so easy. The singer was initially handled by major label BMG, who marketed her in the mid-1990s as a sort of Swedish Britney Spears.
There were a handful of US hits, including the ebullient Show Me Love, but her subsequent releases performed badly outside Scandinavia.
In response, Robyn raised her game, delivering a sizzling collection of edgy electropop demos to her label in early 2004.
They weren't impressed, so Robyn walked away and held onto the tapes.
Those songs formed the basis of her comeback, although it was a later recording - With Every Heartbeat - that jump-started her UK career, landing at number one in summer 2007.
Looking back now, Robyn believes that the cookie cutter culture at her old label is the root of the record industry's current malaise.
"When I started out, music was so hardcore marketed to young kids," she says.
"They were constantly bombarded with marketing about what kind of music they should like."
"And then those kids grow up and they realise these artists don't care. It's just a big music machine.
"The whole magic disappears and they're like 'forget it - I'm not going to pay for this'. That's why we're in the situation we're in."
So how has she avoided this fall-out?
"The fans that I still have are the ones who decided they still want to like music," she theorises.
"It doesn't come down to whether they pay for music or not - it comes down to how they consume the music.
"If they're interested, they go on the website and get all the extra content that I've been able to create and make available through my company, where I'm the one deciding how the record is presented to people. That's what's making the difference."
Feisty Fembot
Another contributing factor to her current success must surely be the astonishing level of quality control across the Body Talk project.
Robyn describes the music as "stripped down" and "sparse".
Her chief skill, on a track like Dancing On My Own, is to soften the cold circuitry of machine music with warm, heartfelt vocals.
The idea is to explore the dichotomy of the modern world, where technology allows us to broadcast our every emotion in public without the benefits of actual human contact.
Or, in Robyn's own words, "Fembots have feelings too."
The singer's other default setting is one of cartoonish boastfulness.
"Even the Vatican knows not to mess with me," she bristles on U Should Know Better, a smart-alec musical tussle with Snoop Dogg.
Robyn describes the final part of the Body Talk trilogy as "the big pop finale."
"It's like an exercise in how far you can go in that world.
"Call Your Girlfriend is one of the most straight up melodic songs on the album. Time Machine is pop, pop, pop.
"I wanted not to play it safe. I wanted to take it all the way and tie it all together with real pop songs."
The album, like its predecessors, has already received a clutch of five star reviews. So does Robyn feel she has successfully killed off the old model of making music?
"Albums may not be what they used to be, but they're still important," she says.
"Maybe the definition of an album changes - it comes to represent a time period, or a subject that an artist is dealing with. But I still think an album is important.
"I think this idea of letting go of everything the music industry used to be and replacing it with a new structure is weird. It's not going to happen."
Body Talk is out now on Konichiwa / Island Records.