Ray Davies to curate Meltdown festival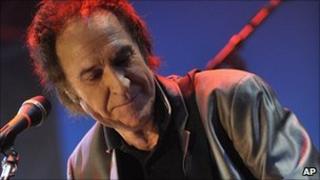 Former Kinks frontman Ray Davies has been appointed artistic director of next year's Meltdown Festival, at London's Southbank Centre.
He follows in the footsteps of David Bowie, Jarvis Cocker, Morrissey and Patti Smith.
Davies said he was planning a "creative celebration through the decades".
The event, which started in 1993, will run from Friday 10 to Sunday 19 June, and will include concerts, DJ sets, talks, films and visual arts.
Davies, 66, said Meltdown 2011 would be "a bridge between the past, present and future".
"I am thrilled to be asked to suggest what I hope will be a diverse programme, particularly as it marks the 60th anniversary of the Festival of Britain," he added.
The full line-up will be announced early next year.
Davies has written some of the most enduring songs in rock and pop history, including You Really Got Me and Dedicated Follower of Fashion.
As well as his work with The Kinks, who disbanded in 1996, Davies has enjoyed a successful solo career.
His latest album See My Friends, released last month, features collaborations with artists including Bruce Springsteen, Paloma Faith and Metallica.