The xx's label reaps XL rewards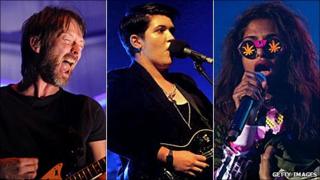 The xx's success at the Mercury Prize was the latest triumph for a small, discerning and influential independent record label that is also home to MIA, Vampire Weekend, Adele and Sigur Ros.
XL Records only signs "artists who mean it".
That is the motto of label boss Richard Russell, who has cultivated a series of significant and successful albums by going against the hit-obsessed, bottom line-driven policy of major labels.
He looks for acts who "have got a strong idea about what they want to do and have a good shot at having long careers, rather than having quick hit pop successes", he has said.
"So to me, there's a triumph of originality."
That ethos has now delivered XL's third Mercury win, following Badly Drawn Boy's victory in 2000 and Dizzee Rascal's success in 2003.
The label was born in the DIY rave era of the 1980s, and in 1992 Mr Russell tasted success with his dance act Kicks Like A Mule, who reached the top 10 with their anthem The Bouncer.
The Prodigy's debut Experience was XL's first full-length release, and the label made its name guiding the group to the top of the charts while allowing them to retain their uncompromising approach, including a refusal to appear on TV.
The label broadened its musical horizons by reportedly beating 17 competitors to sign Badly Drawn Boy, opening the door for a more diverse range of acts.
Dizzee Rascal followed in 2003 and Thom Yorke signed to XL to release his solo debut in 2006.
That deal led XL to be the label of choice when Radiohead put out a physical version of their last album In Rainbows, and Damon Albarn released his soundtrack to the opera Monkey: Journey to the West through the company.
Last February, when British artists swept the board at the Grammy Awards in Los Angeles, the label with the most UK nominees in the main four Grammy categories - record, song and album of the year, plus best new artist - was not a major, but XL.
Radiohead, Adele and MIA all earned Grammy nominations that year, and XL's status on the world stage was confirmed this January when Vampire Weekend's second ­album Contra became the first record from a British indie label to reach number one in the US for 20 years.
Mr Russell, meanwhile, has kept his hand in behind the mixing desk, personally producing the latest album by American poet Gil Scott-Heron after visiting his hero in prison to persuade him to return to the studio.
The label is part of the larger - but still independent - Beggars Group, and tries to limit its release schedule to around eight albums a year, Mr Russell says.
He recently told an interviewer: "I have a bit of an anti-business philosophy on this, because business is all about getting bigger and I don't believe in us being bigger. I believe in us getting better."
The operation is co-ordinated from a small office in Ladbroke Grove, west London, whose outside wall is covered in a large mural by Radiohead cover artist Stanley Donwood, and which has a small in-house studio where The xx recorded their winning album.
Like any label, XL has had its fair share of misses - recent bands like Cajun Dance Party, Magistrates and Golden Silvers failed to fulfil early promise.
And the label parted company with Dizzee before his latest Mercury-nominated album because, the rapper says, XL did not like his new direction after he played them his song Dance Wiv Me.
That track went on to spend a month at number one and Dizzee, who set up his own label to release it, has arguably become Britain's biggest pop star.