Tyne & Wear
Top Stories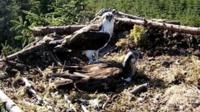 A pair of "unfaithful" ospreys return to their mates as egg laying begins at a Northumberland forest.
More top stories
Newcastle boss John Carver calls for more protection from his club after saying he was "abused" by supporters.
The centenary of the World War One Gallipoli campaign is marked in the North East.
Police arrest a man in connection to an alleged threat to behead a UKIP election candidate in Newcastle.
Sunderland say Adam Johnson can continue to play for the club after he was charged with under-age sexual activity offences.
An air rifle is found hidden inside a wall at the former home of a Northumberland man who killed his wealthy lover.
A man who died after the car he was travelling in overturned near the Angel of the North is named.
Our correspondents
Richard Moss
Political editor, North East & Cumbria
Latest stories
Sussex's Ollie Robinson becomes the first county debutant to hit a century in 95 years on day one against Durham.
Natalia Pablos Sanchon scores twice to help Arsenal Ladies overcome Sunderland, who have Abby Holmes sent off.