Tyne & Wear
Top Stories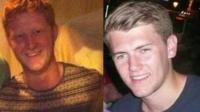 A Malaysian court finds a local man guilty of murdering two Newcastle University medical students in Borneo.
31 March 2015

From the section

England
Two ex-staff members at a former youth detention centre are arrested on suspicion of sexually and physically assaulting inmates.
More top stories
A teacher who admitted having sex with a teenage girl and asked her to sign a "slave contract" with him, is banned from the classroom.
Should Rangers gain promotion to the Premiership this season, they must pay Newcastle United £500,000.
A pedestrian who died in hospital after being hit by a car on a rural Northumberland road is named.
A Northumberland charity is awarded a £777,200 grant to explore its maritime heritage and renovate its own tall ship.
Five people are arrested on suspicion of human trafficking offences in Newcastle.
About a third of probation workers employed by a private company could lose their jobs, including Northumbria, a union says.
30 March 2015

From the section

England
Our correspondents
Richard Moss
Political editor, North East & Cumbria
Latest stories
Newcastle announce a record annual profit of £18.7m for 2013-14, the fourth consecutive year they have made money.
Great Britain captain Drew Sullivan stars as both London Lions and Sheffield Sharks hit form in the British Basketball League.