Tyne & Wear
Top Stories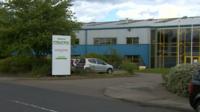 People living near a South Tyneside factory where there has been an outbreak of Legionnaires' disease are warned to watch out for symptoms.
More top stories
A newborn baby boy is found abandoned on the doorstep of a property in County Durham.
Sunderland boss Dick Advocaat is to leave the club after guiding the Premier League side to safety this season.
Five stuffed stag heads have been stolen from a shed in Morpeth.
Police find more than 30 stolen mobile phones after using a tracker app to find an iPhone taken at a Foo Fighters gig.
Police investigating the murder of a man shot dead outside a South Shields takeaway say "significant" leads have emerged following a Crimewatch appeal.
Researchers in Newcastle say there are no differences in the eyesight of dyslexics and non-dyslexics.
A poster urging parents not to use the police to scare their children is seen more than 3.5m times since Friday.
Latest stories
Durham ease to a six-wicket win at Worcestershire on the fourth morning at New Road to go top of Division One.
New co-owner Richard Bennett wants to continue Gateshead's push for the Football League after completing their takeover.