Suffolk
Top Stories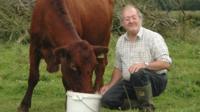 A farmer successfully appeals against a £83,000 confiscation order made after he flouted mad cow disease regulations.
More top stories
A man once dubbed the world's fattest speaks of his new "responsibility" as he awaits life-changing weight loss surgery.
An "exotic" snake is found 6,000 miles away from its home in Malaysia, in a box of timber in Ipswich.
Snapshot survey suggests Labour could win two seats back in Suffolk.
A football fan, who died last week, would have been "amazed" as his team scored during a minute's applause in his honour, his friend says.
An American, serving as a councillor in Suffolk for four years, has been told he cannot stand for election in May as he does not have British citizenship.
The Prime Minister promises Lowestoft a new bridge by 2020, according to the local Conservative candidate.
Ipswich edge closer to securing a place in the play-offs.
Latest stories
Ipswich full-back Tyrone Mings says boss Mick McCarthy's calmness is a key factor in their bid to seal their play-off place.