Suffolk
Top Stories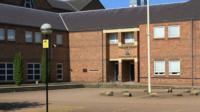 An off-duty policeman accused of a road-rage attack on a cyclist is found guilty of dangerous driving.
More top stories
A man with mental health issues murdered his wife with an axe before jumping to his death from a car park, an inquest hears.
Residents of about 30 homes in Lowestoft have been clearing up after flooding in the early hours of Saturday.
The Suffolk singer's got a recurring role as Sir Cormac, a deadly and ambitious character in The Bastard Executioner.
27 July 2015

From the section

Home
Three of the six cannon on Suffolk cliff top are restored, but another £12,000 is needed to finish the job.
Residents and staff leave their Suffolk care home after a blaze breaks out in the void between the basement and ground floor.
26 July 2015

From the section

England
Homes and roads in Suffolk are left flooded as four inches of rain falls in 24 hours.
Latest stories
Scotland's Christophe Berra says England "have everything to lose" in the 2018 World Cup qualifiers between the two sides.
Anthony Ogogo confirms he twice dislocated his shoulder while beating Ukrainian Ruslan Schelev at the weekend.