Stoke & Staffordshire
Top Stories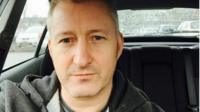 A police officer who lost his right eye after being shot is to be commended for attempting to save a man's life.
More top stories
Two men who died in a crash on the A5 in Staffordshire are named.
The rollercoaster crash at Alton Towers last month led to the "most challenging" rescue of his career, according to the firefighter in charge.
A privately-run Staffordshire jail is given the second highest rating in national prison statistics.
30 July 2015

From the section

England
A council which said there were "serious" problems with its new headquarters has passed it fit for purpose.
A Stoke-on-Trent man's 30-year wait for a kidney transplant ends.
People in Stoke-on-Trent are being asked about proposals to "control" smoking in some public spaces.
Latest stories
Has Stoke-on-Trent, the city that produced Phil Taylor, lost its title as "unofficial capital of the darting world"?
Burton Albion sign defender Jerome Binnom-Williams on a season-long loan from Premier League side Crystal Palace.