Stoke & Staffordshire
Top Stories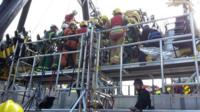 The rollercoaster crash at Alton Towers last month led to the "most challenging" rescue of his career, according to the firefighter in charge.
More top stories
A council which said there were "serious" problems with its new headquarters has passed it fit for purpose.
Two men have died in a motorbike crash on the A5 in Staffordshire, police say.
A Stoke-on-Trent man's 30-year wait for a kidney transplant ends.
An NHS trust set up to run the scandal-hit Stafford's hospital requires improvement, a health watchdog says.
People in Stoke-on-Trent are being asked about proposals to "control" smoking in some public spaces.
Remains are found at the site of an explosion at a wood flour mill by search teams looking for a fourth missing person.
Alton Towers owner Merlin Entertainments says the rollercoaster accident at the theme park could affect profits by as much as £47m.
Former Manchester City and Stoke City goalkeeper Carlo Nash is cleared of stalking his ex-wife.
Latest stories
Stoke City chairman Peter Coates says that trying to make new signings can be a "messy business".
League One side Burton Albion sign 21-year-old Wolves winger Zeli Ismail on loan until January.