Oxford
Top Stories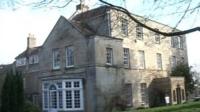 Students at Oxford's Ruskin College say it is moving away from its founding principles of providing degree-level education for working-class adults.
More top stories
A multi-million pound scheme to refurbish five 1960s tower blocks in Oxford is delayed.
A graffiti artist creates his vision of Oxfordshire's Henley Festival for rail commuters at Paddington Station.
A £1m project to restore and preserve a unique set of medieval wall paintings in an Oxfordshire church starts.
Victims of a triple murder in Didcot are being remembered at a church, a week after their deaths.
Latest stories
Oxford United goalkeeper Ryan Clarke says he is unsure of his first-team future at the League Two club.
Eddie Pepperell and Tyrrell Hatton finish well in Ireland to book their places for The Open Championship at St Andrews.