Nottingham
Top Stories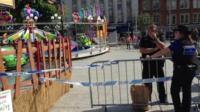 Police patrols are to be stepped up at an artificial beach in Nottingham after a man was stabbed during a fight near fairground rides.
More top stories
A gas company seeks planning permission to drill monitoring boreholes in advance of shale gas drilling in part of Nottinghamshire.
Mortality rates at Lincoln County Hospital and Sherwood Forest trust are concerning, experts say.
An "iconic" statue of Robin Hood near Nottingham Castle is being recast and given to Nottingham's sister city in China.
A man is stabbed during a fight next to an artificial beach in Nottingham city centre.
Taxi-hailing app Uber is given a licence to operate in Nottingham despite opposition from around the world.
A woman has been charged with the murder of a man at their home in Hucknall, Nottingham.
Latest stories
Notts beat Lancashire by four wickets in Liverpool to stay top of their One-Day Cup group and set for the last eight.
Former Ipswich defender Elliott Hewitt becomes the 17th summer signing by League Two club Notts County.