Nottingham
Top Stories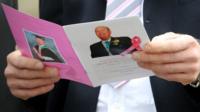 Mourners attending the funeral of John Stollery, who died in the Tunisian beach attack, wear pink in honour of the Nottinghamshire social worker.
The first stop on Nottingham's new £570m tram lines opens to the public.
More top stories
Former chancellor Ken Clarke tells the Old Bailey that claims he molested a young actor in the 1990s are "preposterous".
Investigators say an electrical fire was the cause of a major explosion at an industrial estate in Nottinghamshire.
Nottinghamshire Outlaws are to play two 50-over matches at Sookholme in their first home games away from Trent Bridge in over a decade.
A former teacher accused of 16 charges of sexual abuse towards boys in Nottingham is cleared of all charges.
Latest stories
Notts County are upset as they are prevented from signing a goalkeeper on loan before Saturday's Women's FA Cup final.
Arsenal give their Women's Super League One title hopes a boost as they fight back to beat Notts County at Borehamwood.