Northampton
Top Stories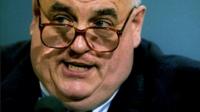 A police commissioner calls for an apology from an MP who claimed there were failures to investigate Cyril Smith child abuse claims.
More top stories
Footage of a Northamptonshire Police officer being attacked by a man wielding an eight-inch knife is released by the force.
A bus station likened by TV presenter Kevin McCloud to the "mouth of hell" is cleared and ready for developers to step in.
A campaign group in Egypt joins the fight over the £15.76m sale of a 4,000-year-old statue by Northampton Borough Council.
Latest stories
Newcastle United are closing in on a deal for Northampton Town striker Ivan Toney, reports BBC Radio Northampton.
Northants opener Josh Cobb hits 86 to set up a 55-run One-Day Cup win over his former county Leicestershire.