Liverpool
Top Stories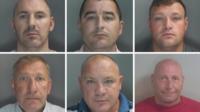 Six men, including four from Liverpool, are jailed after lorries and their loads, including whisky and £200,000 of Toblerone, were stolen in Kent.
26 May 2015

From the section

England
More top stories
Three famous ocean liners sail together in Liverpool for the first time to mark Cunard's 175th anniversary.
Liverpool manager Brendan Rodgers accepts his future is in doubt after his side's 6-1 thrashing at Stoke City.
A Liverpool man who attracted global support after "fat-shaming" images of him were posted online attends a party in his honour in Los Angeles.
25 May 2015

From the section

UK
A bride who booked a Gary Barlow lookalike for her wedding gets a shock as the real Take That star turns up to sing.
The first of Cunard's three liners, known as the "three queens", arrives on the Mersey and docks in Liverpool.
A Liverpool nightclub which was closed amid concerns over alleged drug dealing is reopening as a three-month closure order comes to an end.
A girl who lost her hair through alopecia gets a "huge confidence boost" by winning a modelling contract in a competition.
Latest stories
Listen to BBC local radio and 5 live sports extra commentary from the County Championship.
Former Liverpool defender Jamie Carragher believes Steven Gerrard will continue to win trophies at LA Galaxy.