Liverpool
Top Stories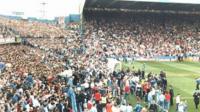 The officer leading the police investigation into Hillsborough was "extremely disturbed" when he first heard police accounts of the disaster had been changed, inquests hear.
More top stories
Prison staff on Merseyside use a "cherry picker" crane to remove drugs and mobile phones thrown over the prison wall after they became trapped on the roof.
Manchester United miss the chance to move 10 points clear of Liverpool after they become the latest victims of Everton's late-season revival.
The ringleader of a "cash-for-crash" scam involving more than 200 bus passengers in Chester is jailed for more than six years.
A 14-year-old boy is charged over an attempted armed robbery in Liverpool.
Tranmere Rovers are relegated from the Football League for the first time in 94 years after defeat at Plymouth Argyle.
A nightclub bouncer is found guilty of the manslaughter of a man who died more than two years after he felled him with a single punch.
Latest stories
Injured Liverpool striker Daniel Sturridge may not play again before the end of the season, says boss Brendan Rodgers.
Lancashire's Alex Davies falls one run short of a maiden first-class century as they take control against Kent.