London
Top Stories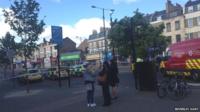 A woman dies after her bicycle is involved in a collision with a lorry in London, on the same day a unicyclist is pulled from underneath a bus by bystanders.
More top stories
An assault rifle used in seven unsolved murders has been discovered on public display at the Imperial War Museum.
28 May 2015

From the section

UK
Sun reporter Anthony France given 18-month suspended sentence for receiving story tips from UK anti-terror officer at Heathrow airport.
29 May 2015

From the section

UK
The new head of Arts Council England says more National Lottery funding will go to organisations outside London.
A new "blanket ban" on so-called legal highs will carry prison sentences of up to seven years, the government says.
Rail workers in the RMT union are to hold 24-hour and 48-hour strikes next month, after rejecting a pay offer from Network Rail.
28 May 2015

From the section

UK
Nearly £9m is raised towards the restoration of a mansion that was inherited by the revered quizmaster Bamber Gascoigne after two auctions of its contents.
29 May 2015

From the section

Surrey
Arsenal midfielder Jack Wilshere says the club's season will be defined by whether they can retain the FA Cup on Saturday.
Features & Analysis
Latest stories
Saturday's Premiership final between Bath and Saracens offers a chance to compare England's fly-halves, writes Jeremy Guscott.
Team news as Bath and Saracens meet in Saturday's Premiership final at Twickenham (14:30 BST).