London
Top Stories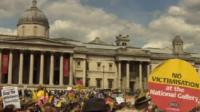 Hundreds of people take part in a rally in Trafalgar Square against plans to privatise the National Gallery.
More top stories
A Lucian Freud painting of eggs which he created as a present for a friend is expected to fetch £150,000 at auction.
As Aston Villa face Arsenal in Saturday's FA Cup Final at Wembley, both clubs boast a strong line up of famous fans who will be backing their teams.
30 May 2015

From the section

England
No criminal action will be taken against police involved in the death of a man restrained by officers in a London psychiatric hospital.
Teenager Kazi Islam from east London is sentenced to eight years in a young offenders institution for grooming a young man with learning difficulties to kill a UK soldier.
29 May 2015

From the section

UK
A cyclist dies after she is involved in a collision with a lorry in London, on the same day a unicyclist is pulled from underneath a bus by bystanders.
Crisis talks aimed at averting strike action will resume on Sunday as a dispute between National Rail and its workers over pay continues.
30 May 2015

From the section

UK
A ban on women driving children to their London school issued by a Jewish education institution is "unacceptable", the Department for Education says.
29 May 2015

From the section

UK
Sun reporter Anthony France given 18-month suspended sentence for receiving story tips from UK anti-terror officer at Heathrow airport.
29 May 2015

From the section

UK
An assault rifle used in seven unsolved murders has been discovered on public display at the Imperial War Museum.
28 May 2015

From the section

UK
Arsenal midfielder Jack Wilshere says the club's season will be defined by whether they can retain the FA Cup on Saturday.
Features & Analysis
Latest stories
Arsenal retain the FA Cup with a win over Aston Villa to become the most successful team in the competition's history.
England fly-half Owen Farrell stars as Saracens beat Bath at Twickenham to become Premiership champions for a second time.