Leeds & West Yorkshire
Top Stories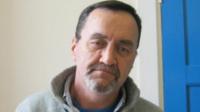 People are warned not to approach a "dangerous" convicted murderer who breached his prison release licence.
31 March 2015

From the section

England
More top stories
A 32-year-old man is arrested on suspicion of murdering a Bradford grandfather in 2012.
The funeral of former Yorkshire and England cricketer Bob Appleyard takes place.
31 March 2015

From the section

England
Leeds Rhinos captain Kevin Sinfield is to join Championship rugby union side Yorkshire Carnegie at the end of the current rugby league season.
A man accused of starting a blaze at a disused Leeds nightclub placed the lives of those in a neighbouring building in danger, a court hears.
West Yorkshire terror suspect Haroon Aswat pleads guilty in New York to charges of plotting to set up a terrorist training camp in Oregon.
30 March 2015

From the section

UK
Dozens of men are involved in a mass brawl in a car park at a shopping centre in West Yorkshire on Sunday night.
In his first remarks since his final acquittal of Leeds Uni student Meredith Kercher's murder, Raffaele Sollecito says he will be "marked for life" by the ordeal.
30 March 2015

From the section

Europe
Leeds-based fitness company Pure Gym has become the biggest gym operator in the UK, the company has said.
A memorial evening is being held for a student whose parents believe died after her drink was spiked in Germany.
An Italian court acquits Amanda Knox and Raffaele Sollecito over the murder of University of Leeds student Meredith Kercher in 2007.
28 March 2015

From the section

Europe
Our correspondents
Len Tingle
Political editor, Yorkshire
Latest stories
Bradford City defender James Meredith signs a two-year contract extension with the League One play-off hopefuls.
Wakefield back-rower Ali Lauitiiti shares some of his favourite memories and moments from 10 years in Super League.