Leeds & West Yorkshire
Top Stories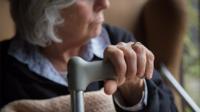 A care home in Bradford is rated inadequate after inspectors found it to be understaffed and poorly managed.
More top stories
Cycling legend Brian Robinson, the first Briton to finish the Tour de France, is given £15,000 compensation after being knocked off his bike in West Yorkshire.
A one-year-old girl is in a critical condition in hospital after being hit by a van in Leeds.
The death of a driver during a police pursuit in Harehills is investigated by the Independent Police Complaints Commission.
Fourteen men and a 16-year-old boy are charged with offences including rape and sexual activity with a girl aged under 16.
A woman accused of killing a patient at a psychiatric hospital in Bradford appears in court.
A third person is charged over an armed raid at a West Yorkshire post office robbed by suspects in wigs.
A taxi passenger who left a car that hit a woman is being sought by police.
A man is raped in an alleyway in West Yorkshire.
Two suspected drug dealers with links to Leeds are being hunted after cocaine and heroin worth £800,000 was thrown from the window of a house, landing next to a police van.
The body of a woman is recovered by police from a river in Ilkley.
Our correspondents
Len Tingle
Political editor, Yorkshire
Latest stories
Listen to BBC local radio and 5 live sports extra commentary from the County Championship.
Craig Overton stars with bat and ball to put Somerset in a strong position against reigning champions Yorkshire.