Leeds & West Yorkshire
Top Stories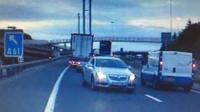 A driver is caught on camera driving the wrong way on a busy motorway in Leeds.
More top stories
Plans for what the Muslim Women's Council says would be the UK's first women-led mosque are discussed in Bradford.
A woman whose seven-year-old son has vanished with her estranged husband appeals for staff and customers of a coffee chain to be on the alert.
The family of a boy killed after he was hit by a tractor have call for a change in the law.
Hull KR beat Warrington at Headingley to book an all-Yorkshire final with Leeds in the Wembley Challenge Cup final.
A man who pressurised elderly people to pay tens of thousands of pounds for "unnecessary, overpriced and shoddy" building work is jailed.
City of Leeds' Jack Laugher becomes only the second GB diver to claim an individual world medal after claiming the 3m springboard bronze.
A man appears in court charged with causing the death of a 25-year-old man by dangerous driving.
A gunman who shot a policewoman in the neck and laughed while cycling off has been sentenced to life in jail.
Blackpool are fined £50,000 for the pitch invasion that caused their game against Huddersfield in May to be abandoned.
A plan to allow visitors to tour the set of TV soap Emmerdale is "provisionally approved".
Our correspondents
Len Tingle
Political editor, Yorkshire
Latest stories
Bowlers Liam Plunkett and uncapped Mark Footitt are named in England's squad for the fourth Ashes Test against Australia.
Leeds forward Jamie Jones-Buchanan is expected to miss the rest of the season with a snapped knee tendon.