Leeds & West Yorkshire
Top Stories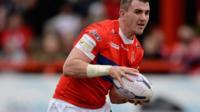 Former Huddersfield Giants player Adam Walker is dropped by his club after being questioned by police over allegations of grooming.
More top stories
A man is arrested after a 16-year-old girl is raped on a footpath in Hemsworth.
A 77-year-old woman is tied up and threatened by a gang of men who barge into in her home in Menston, West Yorkshire.
A group of people travelled from Leeds to London to retrace the steps of three bombers who carried out the 7th of July bombings.
The government is to fund two permanent memorials to UK victims of terror attacks overseas including Christopher and Sharon Bell from Leeds, Prime Minister David Cameron announces.
5 July 2015

From the section

UK
About 1,000 homes on the outskirts of Leeds are without power after severe thunderstorms in the early hours.
A new Castleford Tigers stadium moves closer with the news the secretary of state has not "called in" a £135m scheme.
A new initiative to tackle extremism is needed because the government's current strategy is not working, two council leaders say.
Commuters could be set for a summer of delays as Northern Rail workers vote for strike action.
A school in Leeds where teacher Ann Maguire was stabbed to death has improved despite the murder, Ofsted inspectors say.
A man from Leeds is arrested for threatening to "blow up" a train in Yorkshire.
Our correspondents
Len Tingle
Political editor, Yorkshire
Latest stories
Listen to live local radio and 5 live sports extra commentaries from the latest round of County Championship matches
This summer's Ashes series is the biggest the women's game has ever seen, according to former England captain Clare Connor.