Hampshire & Isle of Wight
Top Stories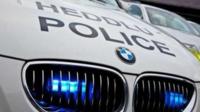 A 19-year-old man is released on police bail following a crash which killed a 73-year-old man from Eastleigh.
More top stories
Family members of Osama Bin Laden were on a private jet which crashed in Hampshire, killing all four people on board, the Saudi Arabian embassy in the UK says.
1 August 2015

From the section

England
The aftermath of the moment a light aircraft crashed into a car auction site at Blackbushe Airport has been captured on film.
31 July 2015

From the section

England
The British Library gets protected status, along with seven other 20th Century libraries including Chandler's Ford.
A man who punched and stamped on his victim in a row over money for drugs has been sentenced to nine years in jail.
A catamaran being used for a new passenger ferry service between the Isle of Wight and the mainland is launched.
A motorcyclist dies in a collision with a car on a country road in Hampshire.
A pilot who received the Victoria Cross for saving his gunner's life during the First World War is honoured with a commemorative paving stone.
Latest stories
Hampshire openers Michael Carberry and Jimmy Adams see their side home unparted after Middlesex are bowled out for 117.
As Chelsea win the Women's FA Cup final for the first time, BBC Sport looks at the competition's transformation since the 1970s.