Devon
Top Stories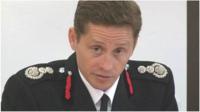 A proposed 6% pay increase for a fire chief is criticised by a union after firefighters receive a 1% rise.
27 May 2015

From the section

England
More top stories
Businesses at a new £2.5m industrial park in Devon say they are losing business because there are no phone lines or internet access.
Surgery carried out on the wrong part of the body goes undetected for five years in one of three 'never events' at a hospital.
A British woman who went missing while on holiday in Cyprus after falling down an embankment dies in hospital.
A major new £110m bypass in Devon will be open by Christmas, according to the county council.
A train company apologises after passengers were told a track delay was because someone "couldn't be bothered to live any more".
Sick days at Devon and Somerset Fire and Rescue Service increase by 42% in one year, figures show.
A burglar with an "appalling record" of 250 break-ins during a 50-year criminal career is jailed.
A man is arrested after a haul of exotic animal parts was seized in Devon.
Latest stories
Notts County sign Scot Bennett on a free transfer from Exeter as they look to rebuild after relegation to League Two.
Plymouth Albion boss Graham Dawe says there is a 'strong possibility' he could sign some of Cornwall's county side.