Derby
Top Stories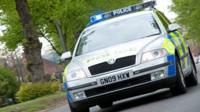 A Derbyshire man is questioned over allegations of indecent assault at a school in West Sussex during the mid-1970s.
30 June 2015

From the section

Sussex
More top stories
A Derbyshire brass band whose equipment was destroyed in a fire say they have been overwhelmed by support.
The deaths of two women, including one from Derbyshire, on the M1 motorway in September last year was an accident, an inquest hears.
A couple confirmed dead by their families following the Tunisia beach attack are described as much loved and caring.
29 June 2015

From the section

England
Plans are unveiled to rebuild the walls of what is thought to have been one of England's largest medieval keeps.
A man has died in custody, Derbyshire police say.
A brass desk lamp which once belonged to Florence Nightingale is sold at auction in Derbyshire for £17,000.
A father and two sons appear in court charged with murder after a flat fire in which two teenagers and a baby were killed.
Our correspondents
John Hess
Political editor, East Midlands
Latest stories
Burton Albion sign German striker Timmy Thiele from Borussia Dortmund's reserve side on a one-year contract.
England Under-17 manager John Peacock replaces Paul Simpson as Derby County's first-team coach.