Derby
Top Stories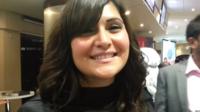 A Conservative local election candidate who said she could never support "the Jew" Ed Miliband is suspended.
More top stories
Tributes are paid by friends and listeners to BBC radio presenter Colin Bloomfield, who died on Saturday following a long battle with cancer.
A farmer uses posters showing a mutilated lamb in an area used by dog walkers in an appeal for them to keep their pets under control.
A recruitment drive is taking place at hospitals in the East Midlands which need nurses in cardiac units and other departments.
A record number of hustings events have been organised in the election, so what is the appeal?
The Quakers have given the world two US presidents and several other prominent individuals, but why is the faith almost forgotten in its English hometown?
25 April 2015

From the section

England
Residents in a Derbyshire town are advised to keep their windows and doors closed because of thick smoke coming from a large factory fire.
Our correspondents
John Hess
Political editor, East Midlands
Latest stories
Martin Guptill smashes an impressive 227 to help Derbyshire reach 511-8 on day two against Gloucestershire at Bristol.
Millwall's hopes of staying in the Championship hang in the balance as they let a 3-1 lead slip to draw with Derby County.