Derby
Top Stories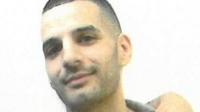 A prisoner from Derby is charged with escaping from lawful custody, police say.
More top stories
Two of a city's indoor markets will be refurbished under an £11m project, securing their future.
A driver was lucky to walk away unharmed when his 1970s sports car crashed with a "spectacular somersault" during a race at Donington Park.
Derby council apologises to Hackney cab drivers after it loses a petition calling for action against other taxis illegally plying for fares.
Former Real Madrid assistant Paul Clement signs a three-year contract to become Derby County head coach.
A major road in the Peak District that links Sheffield and Manchester is to be closed for two weeks for repairs.
An hour-long peal of bells sounds in memory of BBC Radio Derby presenter Colin Bloomfield.
Our correspondents
John Hess
Political editor, East Midlands
Latest stories
The third day of Derbyshire's match with Gloucestershire is abandoned without a ball being bowled because of heavy overnight rain and wind.
Lincoln City sign full-back Bradley Wood from Alfreton on a two-year contract for an undisclosed fee.