Cornwall
Top Stories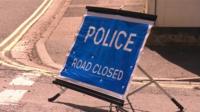 A tractor driver dies after his vehicle overturns in Cornwall, trapping him underneath.
More top stories
A gull is caught on camera as it swoops to steal a Cornish pasty on a beach in the county.
A controversial quarry project could generate up to £190m for Cornwall's economy, claims a report.
A contractor was electrocuted when working in a "death trap" building site, a court hears.
Firefighters who tackled a large bonfire at an industrial estate attend a hospital after "feeling unwell".
Plans to charge disabled drivers for parking are opposed by hundreds of people.
A theology student who stole almost £10,000 from a vulnerable widow she had befriended is jailed.
Latest stories
Keeper Martin Rice rejoins National League South side Truro City after his release by Torquay United.
Callington beat Newquay by just seven runs to lift the Hawkey Cup for the first time since 2001.