Cornwall
Top Stories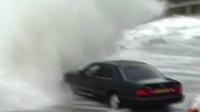 Cars are moved by large waves and people are advised not to enter the sea at a number of beaches as bad weather hits the south-west of England.
4 August 2015

From the section

Devon
More top stories
A yachtsman who was found in the sea off the coast of Cornwall has died on what was meant to be his last trans-Atlantic voyage.
Two men are arrested after two walkers are killed on a country road in Cornwall
First Great Western rail workers are to stage strikes, including over the August Bank Holiday weekend, the Rail, Maritime and Transport union says.
3 August 2015

From the section

UK
A group of dairy farmers buys all the milk in two rural branches of Morrisons in protest at the price the supermarket giant pays for milk.
2 August 2015

From the section

England
A 79-year-old "housebound" man is killed in what is believed to have been an accidental fire.
A diver "could potentially be in a serious condition" after making a rapid ascent off the north coast of Cornwall.
The approval of plans for a retail development to pay for a sports stadium in Cornwall has caused "despair", a planning chairman says.
A modern-day "Fagin" is jailed for selling stolen property worth around £100,000.
People are being warned to take care after a Portuguese man-of-war is washed up on a beach in Cornwall.
A prolific burglar who stole the life savings of a 94-year-old widow on her birthday was tackled by the woman's daughter and granddaughter.
Latest stories
Cornwall's hopes of winning the Minor Counties Western Division are hit after they lose by 266 runs to rivals Oxfordshire.
Cornwall girls champion Emily Toy wins the English girls' golf championship at Sheringham.