Cornwall
Top Stories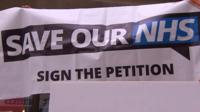 Campaigners from Cornwall have delivered a 10,000 signature 'Save Our NHS' petition to MP candidates in five Cornish constituencies.
More top stories
A former soldier appears in court charged with the attempted murder of a man who was shot dead by soldiers in County Armagh more than 40 years ago.
A woman whose husband is accused of throwing acid in another man's face has been charged with perverting the course of justice.
The police helicopter is activated and sniffer dogs let loose as blood is found in a wooded area.
Spending on agency nurses in the South West has soared from about £12m in 2010 to more than £59m in 2014, it emerges.
24 April 2015

From the section

England
The Prime Minister gives his public backing to a stadium for Cornwall if the Conservatives are re-elected in May.
A farmer whose animals were put down because he failed to care for them is jailed for 18 weeks.
Liberal Democrat parliamentary candidate Stephen Gilbert is caught speeding by a speed camera he "secured the funding for".
Cornwall Council says it can afford to pay employees the living wage due to pay freezes for other staff.
Latest stories
Yorkshire Carnegie will be without David Doherty and Chris Pilgrim in the final game of the Championship season.
Launceston boss Neil Bayliss says their home form has let them down as they enter the final phase of the season.