Cornwall
Top Stories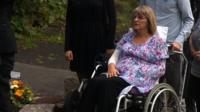 A funeral congregation hears tributes to Stephen Mellor, 59, a Cornish engineer who was among 30 Britons killed by a gunman in Tunisia.
More top stories
A man is jailed for trying to blackmail US heiress Haley Meijer out of £2m by posting pornographic pictures of her online.
Nine people are treated for eye irritations after a chemical spill at laundry company in Cornwall.
A private firm in charge of cleaning and catering at an NHS Trust sees a fivefold rise in missed targets.
Forty incidents of raw sewage polluting beaches across the south west at the weekend happened because of water company systems failing, environmental campaigners claim.
Recent attacks by gulls on people and their pets in the south west have been widely reported. But are the birds misunderstood?
28 July 2015

From the section

UK
Shellfish farms on the Helford River and Camel Estuary in Cornwall re-open after pollution closure notices are lifted.
A Cornwall MP says the government will help create an alternative plan for a stalled 10,000-seat sports stadium.
A child rapist jailed after getting a teenage girl pregnant fails in a court bid to overturn his conviction.
A landowner accused of manslaughter after a builder was electrocuted by a cable, has blamed a co-defendant.
A parked car is stopping a power company carrying out repairs and forcing residents to live with generator noise
Latest stories
Truro City manager Steve Tully wants his side to have a good run in the FA Cup and FA Trophy this season.