Cornwall
Top Stories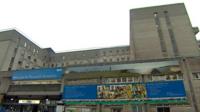 Days lost to stress-related sickness by doctors at a hospital trust increases by more than 430% in five years, it is revealed.
31 July 2015

From the section

Devon
More top stories
A supermarket expected to bankroll a 6,000-seat sports stadium for Cornwall is given planning consent.
An 85-year-old man from Cornwall dies after a head-on crash in North Lanarkshire.
A cow and a bullock both have lucky escapes after both getting their heads stuck in the same tree days apart.
30 July 2015

From the section

Home
The family of a disabled man who waited six years for a council to resolve a dispute over his care package is awarded £135,000 in backdated payments.
A woman is airlifted to hospital with life threatening injuries after falling off a quay in west Cornwall.
A man is jailed for trying to blackmail US heiress Haley Meijer out of £2m by posting pornographic pictures of her online.
A funeral congregation hears tributes to Stephen Mellor, 59, a Cornish engineer who was among 30 Britons killed by a gunman in Tunisia.
Nine people are treated for eye irritations after a chemical spill at laundry company in Cornwall.
A private firm in charge of cleaning and catering at an NHS Trust sees a fivefold rise in missed targets.
Forty incidents of raw sewage polluting beaches across the south west at the weekend happened because of water company systems failing, environmental campaigners claim.
Latest stories
Cornwall girls champion Emily Toy wins the English girls' golf championship at Sheringham.
Launceston's new head coach Mike Lewis says his aim is to avoid relegation from National Two South this season.