Birmingham & Black Country
Top Stories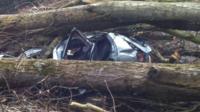 A man is seriously injured after his car is crushed by a falling tree in high winds.
More top stories
A Watford FC fan attacked after a match in Wolverhampton is moved to a specialist care unit, police say.
31 March 2015

From the section

England
A Black Country council "discriminated' against a couple in its handling of a housing benefits claim, a judicial review rules.
Staff at a prison are informed of an attack on an inmate by the Samaritans, according to an official report from HM Prisons Service.
A woman who became disabled after medics failed to spot a collapsed disc is to receive more than £2m in damages from the NHS.
A bakery with a chain of 22 shops in the West Midlands closes with the loss of 104 full and part-time jobs.
A three-year-old girl is in a serious condition in hospital after she was hit by a taxi in Lozells, Birmingham.
More work is needed to protect children in Birmingham, according to the commissioner appointed to oversee the children's services department.
The M6 is closed outside Birmingham after horses are spotted wandering on the motorway.
The death of a 10-week old girl who was killed by her father could not "have been predicted nor prevented", a report claims.
Parents who claimed their one-year-old daughter fell from a first-floor window after a council worker left it open are told no further action will be taken over the incident.
Our correspondents
Patrick Burns
Political editor, Midlands
David Gregory-Kumar
Reality Check, BBC News
Latest stories
Birmingham Bears, the T20 Blast champions, sign New Zealand skipper Brendon McCullum for this summer's tournament.
Birmingham City's parent company, Birmingham International Holdings Limited, receives five offers for the Championship club.