Beds, Herts & Bucks
Top Stories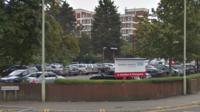 A group responsible for NHS-funded healthcare in Bedfordshire reveals a deficit of £43.2m.
More top stories
Stevenage appoint former England striker Teddy Sheringham as manager to replace the outgoing Graham Westley.
A man who attempted to help a British jihadist in Syria who laughed about Islamic State beheadings in a BBC Newsnight interview is jailed.
A St Albans man is charged with rape, sexually assaulting girls and human trafficking.
21 May 2015

From the section

England
A Hertfordshire man is one of eight charged with conspiracy to burgle following the Hatton Garden jewellery heist, Scotland Yard says.
21 May 2015

From the section

London
A grammar school teacher is banned from working in schools after he went out with a 15-year-old girl he met on a dating website.
An alleged sex ring victim says she first had sex with one of the men on trial in a "toy room" when she was 12 years old.
The constant chiming of church bells has upset the harmony in one Hertfordshire village.
19 May 2015

From the section

UK
Latest stories
Wycombe's Matt Bloomfield discusses media days and suit fittings in his League Two play-off final diary.
Lewis Hamilton sets the pace with an impressive showing in first practice at the Monaco GP, with rookie Max Verstappen second.