Beds, Herts & Bucks
Top Stories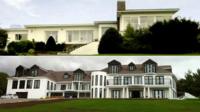 A homeowner involved in an ongoing row over an "inappropriate extension" may have to demolish part of his house after a planning inspector's ruling.
More top stories
Plans for a new £22m national headquarters for badminton have been scrapped, despite being granted planning permission in 2013.
Four men and two 14-year-old boys are charged over an attack that left Watford football fan Nic Cruwys with severe head injuries.
Seven people, including two children, are injured in a boat explosion in Buckinghamshire.
Latest stories
MK Dons' former England defender Matthew Upson says he had to make "a big decision" over whether to continue playing.
Former Republic of Ireland midfielder Keith Andrews retires as a player to become first-team coach at former club MK Dons.