What does an early election mean for England's schools?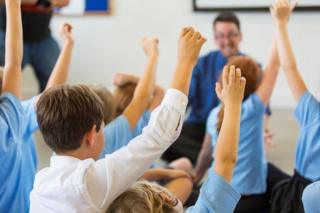 Theresa May says an election is needed to strengthen her position in negotiating the UK's exit from the UK.
But education is also going to be a key battleground as she has made it her main domestic policy priority.
One of the main challenges to her vision of a new generation of grammar schools has been the fact that the policy was not in the Conservative manifesto in 2015.
This has meant the House of Lords had no obligation to support it, and many peers were uneasy.
So expect it to be a core part of her election offer.
There will be many questions about the detail and whether, as Justine Greening signalled last week, the government might, for example, impose quotas for places to be given to children from lower income families.
Will they also promise a national standardised test for entry to grammar schools?
Future funding
It also leaves the plans for a national funding formula for England's schools up in the air.
While many support the broad principle of narrowing the gap between worst and best funded areas it has brought firmly into the public domain the debate about school budgets.
The bills England's schools pay are rising faster than current funding, which means real terms cuts of around 8% per pupil by 2020, according to the independent economists at the Institute for Fiscal Studies.
Across the country thousands of schools have written to parents setting out the difficult decisions they face in order to balance their books.
Parents have become involved in campaigning on education funding in a way not seen for decades.
Expect Labour and the Lib Dems to make much of this during the campaign. In many cases it is Labour heartlands in the inner cities that are set to lose most under the current funding formula plans.
But there are significant challenges and jeopardies in an election campaign for Labour too.
Jeremy Corbyn will have to define what exactly his vision of a National Education Service means, and how he intends to fund it.
If Labour is concerned about school budgets would it plug the gap and where will it find the money to do that?
One promise, for which Labour has already set out the plans, is free school meals for every primary school pupil.
The party says that could be funded by adding VAT to school fees for private schools, though the independent sector has questioned if that would raise enough.
Coalition legacy
During the coalition government the Lib Dems felt they did not get enough credit for their contribution to education policy.
They pushed for the pupil premium and free school meals for infant pupils.
So will they seek to match Labour's pledge this time?
And, for politicians of every party there is one issue they know is close to parents' hearts, the cost of childcare.
In 2015 the Conservatives promised to double the amount of free childcare from 15 to 30 hours.
An election campaign is a chance for other parties to hold them to account for how well it is being implemented.