The state school sixth formers twinned with Eton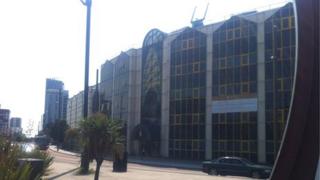 From a busy junction at Stratford High Street in East London, there is a great view of a symbol of one of the UK's most glittering recent successes - the Olympic Park - and the modern station created to go with it.
And close by is an unusual school which is striving to bring together the old and the new traditions of England - much like the spectacular opening ceremony of the 2012 Olympics.
The London Academy of Excellence is a government-funded sixth-form serving the East End of the capital which is trying to bridge the gap between private and state schools.
It opened its doors as London basked in the glow of the Olympics last year.
In an unusual partnership, pupils there share lessons, sport and teachers with a local community school and several independent fee-paying schools including Eton, Brighton College and Highgate.
It is easy to miss the London Academy of Excellence. Its modern building looks like any other shiny office block, perched on the edge of a busy road.
It is as far from the green playing fields and quads of Eton and Brighton College as you could imagine - but pupils at these and the other schools involved are sharing more than lessons and aspirations.
Through a buddy system, they are getting to know each other during visits and getting a window on each other's lives.
Tailcoats
Yousef, 17, was one of the first group of sixth-formers to join the academy.
"I was attracted by the links with Eton and the other schools," he said.
"This has built a bridge between us and independent schools. It's taught us a lot. It's illustrated that we have far more in common than difference.
"I get to visit Eton House boys with tailcoats. That was a bit of an experience, out of the ordinary, but behind that we saw a lot of similarities between us."
Do the teenagers feel envious when they see the very different surroundings of pupils at the other schools?
Curtis, 17, says no.
"One buddy took us on a tour and I studied a lesson of history with them. There was a similar-sized classroom, a similar way of teaching and talking. I felt at home there," he said.
"I did not feel envious. I am not that kind of individual. But who would not want to study at Eton?"
Some of the sixth-formers say they feel lucky, because they do not have to pay for their education.
"We have this free. They are paying vast amounts to go to a college similar to ours", says Clinton.
Ellie says the students at the other schools seemed really pleased to meet them.
"They were just as interested in us as we were in them. My buddy was asking so many questions about what we do."
Words of inspiration
Most of their education takes place in the bright modern, business-like surroundings of their academy, in a converted office block.
Their "uniform" is a "smart, professional dress code".
The walls are white, the furniture bright. Big bold canvases with faces of famous intellectuals, scientists, artists and writers decorate the walls, dotted with their words of inspiration.
In front of one of them is the academy's headmaster Robert Wilne, an energetic man, who bubbles over with enthusiasm for his pupils' success, their futures - and the aims of this experimental school.
"There are many schools doing interesting partnerships," he said.
"But this is a third way for independent schools, aside from giving bursaries or sponsoring academies.
"It is an experiment. I would love another city to look at it.
"It's a genuine, deep-seated partnership between eight schools that are woven in to the DNA of this academy.
"It's not window dressing or surface gloss."
It is an experiment praised by the head of England's schools inspectorate Sir Michael Wilshaw, who in the summer accused many independent schools of living in "splendid isolation" from the state sector.
He drew criticism from some in the private school sector this week too, for saying some schools' links with state schools were small, like crumbs from their tables.
Some responded angrily, saying that their schools saved taxpayers money by educating children outside of the state sector.
Both Labour and coalition governments have called for more links between private and state sector schools.
Various links
All the academy's funding is from the government, says Mr Wilne and there is no direct funding from private schools.
But there is support "in kind" and through links. Some of the governors are from the independent schools in the partnership.
"We draw on their various expertise and resources," says the headmaster.
"So if I want a scheme of work [curriculum plan] for maths, I go to to Highgate and ask for that. The head of economics at Brighton College is de facto head of economics here.
"They have been down and given feedback and mentoring support."
Mr Wilne hopes the school will help social mobility.
"Education is the fuel of social mobility, education changes lives," he says.
"This 360 degree education we are offering here should fuel that mobility. Students will get the grades that will unlock doors to top universities and they are taking up extra-curricular activities and sports.
"They are interested in meeting others and they are not going to be daunted by meeting Etonians in the future."
Sport, it seems, has also proved to be a good ice-breaker between students at the various schools.
"We enjoy visiting them as much as the sport," says Yousef.
Curtis says he is enjoying trying out new sports.
"There is so much sport available. We do rowing. In my secondary school, we did rowing on a rowing machine, now we get to go on the water."
With the first full exam season under its belt, the academy is now into its second year. The pioneer year looks to be a hard act to follow, having achieved 70% of their AS-levels at grades of A or B.
Three students, including Ellie, spent part of the summer in the USA on a summer school after being encouraged to apply.
"I always wanted to go to university but did not aspire to the top ones," she said.
The students say the school has widened their horizons, with encouragement to do so often coming in the shape of one of the many emails pumped out by their headmaster telling them of various opportunities.
"I get worried if I don't get an email from the head," one teenager says.
They are getting help with their university applications and personal statements from one of the visiting teachers from the private sector.
Student Harmanpreet says: "Our old head was always saying it's not about where you come from but where you are going.
"We know we are from a deprived area but LAE has shown us where we want to go."