Treasury pledges extra £10bn for England school repair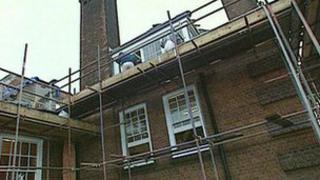 The government has pledged to spend £10bn repairing school buildings in England up to 2021 and says a scheme to re-build the worst schools will be finished two years ahead of schedule.
£1.3bn is being injected in to a scheme under which 261 priority schools are being re-built, on top of the £10bn.
The scheme has been delayed due to problems raising private finance and work is under way at just one school.
It will now be finished by 2017, the government says.
The funding was announced in the Commons by Chief Secretary to the Treasury Danny Alexander as he outlined the government's capital spending programme.
He also said that one million new school places would be created in England in a decade.
"There are many other schools in need of repair and investment," he told MPs.
"We will put £10bn behind this, enough to clear the urgent backlog, and we are investing too to create one million new places in a decade, across the country, including in Lancashire, Leeds and London."
Department for Education officials later said the £10bn would be spent on repairs and maintenance of schools outside of the 261 on the Priority School Buildings Programme, which involves larger-scale, re-building schemes.
Other schools are also waiting for repairs and have been checked, alongside all schools, in a national survey, before decisions are made. The results are expected this autumn.
The priority building scheme replaced the larger £52bn Building Schools for the Future programme that was scrapped by the coalition government which said it was "expensive and wasteful".
The delays to the replacement scheme were due to problems raising private finance and the Treasury pledge of public funds is aimed at plugging that gap.
Officials say construction work on other schools in the priority scheme will "follow shortly" and that about 150 projects will now start almost a year earlier than planned.
Other capital spending - £7.5bn - is going to create 500,000 new school places by 2021, in existing as well as in new free schools and academies.
Mr Alexander's figure was higher - at one million school places - but this is understood to include places the government had already pledged to create by 2014-15.
There is a severe shortage of school places in some areas, mainly at primary school level, linked to the rising birth rate.
The National Audit Office warned in the spring that a quarter of a million extra places would be needed in England by autumn 2014.
'Protected'
On Wednesday, the Chancellor announced that school spending would be "protected in real terms" and that there was funding to create 180 more free schools in 2015-16, on top of the 80 already open and 200 in the pipeline.
There will also be 20 more studio schools which young people can attend part-time while working and 20 more university technical colleges, aimed at providing high-level vocational education.
Other (non-school) education spending, on young children and over-16s for example, is not covered by the protective "ring-fence" so could come under pressure and councils are to receive less money to provide school support services.
In the Commons, Labour MP Heidi Alexander said today's announcements did nothing to make up for "the dreadful short-sighted decisions that this government took when they first came to power three years ago".
"If investing in schools and investing in homes is so important, why was it one of the first actions of this government to axe the Building Schools For The Future programme?" she said.