Michael Gove like a fanatical personal trainer, union says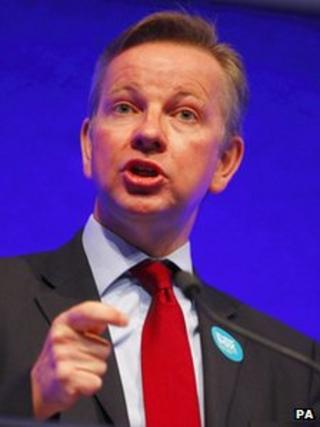 The education secretary is like a "fanatical personal trainer" who urges schools to jump higher and run faster, a head teachers' leader is to say.
Bernadette Hunter, president of the NAHT, will say Michael Gove pays no heed to "the damage he is causing to the body or the system".
Heads are being bullied into turning schools into academies, she will tell the union's conference in Birmingham.
Mr Gove is expected to tell delegates his reforms are raising standards.
Ahead of the conference Ms Hunter said head teachers were also "particularly unhappy" about what she called the "constant churn of educational change" and the "negative rhetoric" coming from the government.
"We know that UK schools are amongst the best in the world," she told the BBC's Breakfast programme. "They are highly regarded by other countries, but to hear the Department for Education you would think we have a failing system."
No confidence debate
The National Association of Head Teachers' conference will hear claims that brokers employed by the Department for Education (DfE) have been pressurising schools, particularly those that face the biggest challenges, into becoming academies.
More than half of secondary schools in England are now academies, but the vast majority of primary schools retain their links with local authorities. Many academy schools are part of "chains", while others are run individually.
Academies are funded by central government rather than by local authorities and have a greater degree of independence over their finances, curricula and school timetables than other state schools.
"What we cannot tolerate is the completely unacceptable bullying of heads and governors to turn their schools into academies, to meet a political target set by the secretary of state," Ms Hunter is expected to say.
Delegates attending the conference are set to debate a resolution warning that they have no confidence in the government's education policies, which they claim are not in the best interests of children.
The resolution raises specific concerns about schools being forced to become academies and rapid changes to the curriculum and exams.
Conservative MP Neil Carmichael, a member of the Education Select Committee, told BBC Radio 5 live there were "too many schools" in special measures or coasting.
And he said pupils were leaving without the skills they need to compete in the world economy.
But there was a warning about the government's reforms from the Confederation of British Industry.
"There is a risk that the pace of change at the moment could be quite uncoordinated," said CBI director Neil Carberry.
He pointed to Finland, saying if the UK could match Finnish attainment levels it would add 1% to annual economic growth figures.
The NAHT, which represents 85% of primary heads in England and Wales, is also set to launch a new code of conduct that it wants employers, whether they are local authorities or academy chains, to sign.
The union sees the arrangement, called the Leadership Compact, as a way of holding employers to account in return for a pledge by heads to lead their schools well and improve standards.
General Secretary Russell Hobby said he hoped the agreement would encourage strong working relationships between head teachers and their employers.
'Last resort'
"We will publicly endorse employers who join in this compact and, if necessary, we will warn about those who repeatedly violate it," he said.
Mr Hobby said that naming organisations which had not stuck to their end of the agreement would be "a last resort".
But he added: "I think people do need to know. The expectations on employers are very reasonable things. It is a last resort and it is much better if we can have a positive relationship, working together."
Mr Gove is due to attend a question and answer session at the conference on Saturday afternoon.
"We will be very professional with the secretary of state but people are very angry," Ms Hunter said ahead of the conference.
Mike Britland, a teacher at a comprehensive school in Bournemouth, said schools would "probably accept more government interference" if ministers had "any experience of working in the school environment".
"I don't really think that this government and any government that has gone beforehand really recognise the issues that we face on a daily basis."
A DfE spokeswoman said: "We are clear that the best way forward for an underperforming school is to become an academy with the support of a strong sponsor. Academy sponsors have already turned around hundreds of struggling schools across the country, and academy results are improving far faster than the national average.
"Academy brokers help us to identify the best possible sponsor to turn around failing schools and ensure pupils are given every chance to fulfil their potential.
"We expect the highest levels of professional conduct from academy brokers and any allegations of misconduct are fully investigated."