Pre-exam breakfasts sent to schools to boost results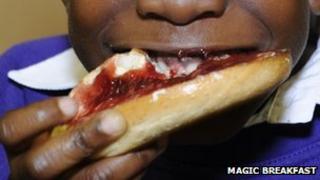 Extra deliveries of juice and porridge have been sent to primary schools in poor areas of England to help them do better in tests this week.
The free breakfasts are for children doing the Sats tests taken by all pupils in their final year of primary school in England.
The Association of Teachers and Lecturers (ATL) says too many pupils do not eat breakfast.
ATL's Mary Bousted says this affects their ability to concentrate.
The charity Magic Breakfast is providing 10,000 free breakfasts this week to schools in cities and towns including Bristol, Bradford, Liverpool, Manchester, Rotherham and London.
"Hungry children can't focus," said the charity's founder, Carmel McConnell.
"These tests are quite demanding. A healthy breakfast will give them four hours of fuel. Without a proper breakfast they will simply be underperforming."
Cereal giant Kelloggs is also providing about 25,000 children, mostly in deprived areas, with a free school breakfast this week.
The company gives grants to help more than 1,000 schools in poorer areas run daily breakfast clubs each year.
The ATL says that many teachers believe that without a breakfast club, pupils who attend them wouldn't have any food before lessons.
General secretary Mary Bousted said: "Some primary schools even insist that all the pupils sitting Sats come into school early to have breakfast before the tests.
"But it is equally important that the other weeks in the year, including the school holidays, when children also need a good breakfast and other nutritious meals, aren't forgotten.
"Currently many disadvantaged children don't get at least one nutritious meal every day so the government needs to do more to make sure they are properly fed throughout the year."
Schools with daily breakfast clubs have reported better behaviour, concentration and energy among pupils.
Magic Breakfast already provides daily free breakfasts to 7,500 children at 229 schools in areas where more than half the pupils are eligible for free school meals.
Food for thought
This week the charity expects to provide breakfast for an extra 3,000 pupils.
Ms McConnell says recent research suggesting that almost half of children in some inner-city areas were living in poverty prompted the charity's decision to increase its breakfast deliveries during the crucial test week.
"Knowing that as many as 47% of children live in poverty in areas where we deliver food, when one school called to ask if they could have extra food this week, we decided to offer a full Magic Breakfast to all Year 6 pupils in our partner schools."
A poll for Kelloggs of 500 children who did the tests last year suggested that some 20% did the exams without having had breakfast. Almost half of these said they were too nervous to eat.
Kelloggs director Paul Wheeler said: "The cereal we're donating will allow these breakfast clubs to open their doors, for free, to all Year 6 students so they aren't going into their exams hungry and unable to concentrate."