Replace GCSE grades with scores, says exam board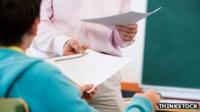 Teenagers should be awarded GCSE scores rather than grades, the international exams group Cambridge Assessment says.
CA, which runs three exam boards, including GCSE provider OCR, says the eight-point scale of A*-G produces "arbitrary categories".
Instead, pupils should be given a score that would show how they ranked in comparison with other candidates.
CA says this would "future-proof" exams, removing the need for additional grades such as A**.
GCSE scores, CA argues, would avoid the situation where two people can have scores some distance apart, yet receive the same grade, while two other people can have scores very close together, but receive different grades because they are either side of a grade boundary.
It would also mean that any unavoidable measurement error has a similar impact along the whole spectrum of marks, rather than being concentrated around grade boundaries.
League table changes
Tim Oates, director of assessment research and development at CA, said: "Grades are arbitrary categories imposed on an underlying continuum of achievement.
"Reporting scale scores would more faithfully capture this idea of a continuum."
He said using scores instead of grades would also mean changes to how secondary schools in England are measured for league tables.
Currently the main benchmark for schools accountability is the number of pupils getting five GCSEs at A*-C, including maths and English.
Mr Oates suggested scores could avoid some of the problems seen last summer, when many GCSE candidates failed to get a predicted grade C in English.
'Better teaching'
"Scale scores might encourage the use of different accountability measures, which could reduce some of the undesirable effects in schools of extra effort being concentrated on pupils around the grade C boundary.
"This would lead to better teaching and learning."
The CA report comes a week after the annual survey of the exams regulator, Ofqual, found many teachers, heads and parents lacked confidence in GCSE grades.
A detailed survey of 4,686 people suggested fewer than two-thirds felt that at least 75% of GCSE students were graded correctly.
Overall faith in GCSE exams appears to have been significantly affected by last year's English GCSE grading row.