Extend free school meals to further education, say teachers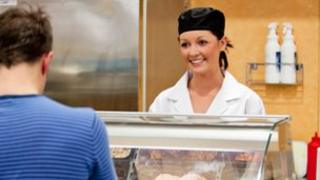 Teachers have called for an end to a funding anomaly that sees students in England's further education colleges unable to claim for free school meals.
Poor college pupils cannot receive free meals, but school sixth-formers can.
The Association of Teachers and Lecturers (ATL) said teenagers were not "sweet-stuffing Billy Bunters scoffing taxpayers' puddings".
It warned that many students were living in poverty, even relying on food parcels for meals.
At its annual conference in Liverpool, ATL delegates voted in favour of a motion to lobby government to end the free school meals (FSM) funding anomaly.
Food parcels
Proposing the motion, Richard Salter, from Somerset, said students at further education (FE) and sixth-form colleges were being discriminated against.
"The student in an FE college is treated differently, not by their peers, not by their teachers, but by their government," he said.
Clare Kellett, a teacher from Somerset, told the conference about a 17-year-old pupil, Jess, who was living on her own because of difficulties at home and was struggling to feed herself.
"My colleague gave Jess what can only be described as a food parcel - that's the level of poverty we're dealing with.
"That is school life for some today - real Hard Times - not To Serve Them All My Days - or even Jane Eyre.
"So we're not talking about the idle youth, the skiving scroungers, the sweet-stuffing Billy Bunters scoffing taxpayers' puddings.
"We're talking about young people in the hardest or circumstances, whose bus fares to school and college are losing their subsidies, who have already lost their EMA [Education Maintenance Allowance], who are being forced to stay in education but some of whom, for no more reason than a political - or perhaps financial - loophole, may not even be sure of a decent meal once a day."
No free lunch?
The FSM funding anomaly has also been taken up by the Association of Colleges (AOC), which is running a campaign to extend free lunches to students at FE and sixth-form colleges.
Its campaign - No Free Lunch? - estimates 103,000 students each year are missing out on free lunches.
The AOC says there are three times as many students eligible for a FSM at colleges than at school sixth-forms.
In a survey, it had found 79% of colleges thought FSM for 16- to 18-year-olds would encourage them to stay on in education.