Poor pupils who switch school mid-year 'at disadvantage'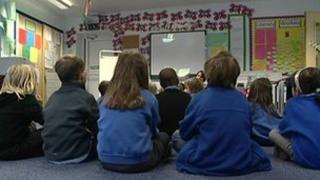 Poor children are increasingly changing schools mid-year and putting their education at risk, suggests a study.
Disadvantaged pupils who switch schools mid-year may "fall between the cracks", says the Royal Society of Arts (RSA), which carried out the research.
The RSA also suggests mid-year admissions may rise as cuts to public spending and benefits compel families to move to areas with lower rents.
The study comes as pupils in England find out their secondary school places.
Friday is National Offer Day, when letters arrive on the doorsteps of hundreds of thousands of 11-year-olds in England to tell them whether they will start at their chosen secondary schools in September.
Vulnerable move
Last year, about one in seven were not offered their first choice of school, according to official figures.
The RSA's analysis of school census data for England suggests pupils on free school meals, a key measure of poverty, are 40% more likely than better-off children to be admitted to a school during the school year, as opposed to early in September when the school year starts.
This means they are switching schools outside the times when schools usually take on new pupils.
This is often because they have moved home or had a change in family circumstances, says the RSA.
The study highlights figures that show the rate of "in-year" admissions among poorer pupils has increased by 20% since 2007-08, despite falling for most children.
Joe Hallgarten, the RSA's director of education, said: "We need to make sure that these children do not fall between the cracks.
"Once the move actually happens, and the child is at a new school, then we need to make sure they are supported so they are not put at a disadvantage in their learning.
"Given that it's the most vulnerable children that are already at risk of under-achievement, we need to take this issue seriously."
The figures are part of an ongoing investigation by the RSA into the effect of mid-year admissions on vulnerable children. The full findings will be published later this year.
The early analysis, based on information obtained from local councils, shows the overall rate of in-year admissions in England has been steady for the past five years.
On average, England had 489 in-year admissions per 10,000 pupils in 2011-12. Newham, in east London, had had the highest rate at 878 pupils per 10,000 and Sunderland had had the lowest at 295, said the RSA.
Primary age pupils are more likely to move schools mid-year than those at secondary school. Half of in-year admissions happened in the Autumn term, with 30% in mid- or late September.
'Under-explored'
Pupils in London, Manchester, Leicester, Nottingham and Peterborough, as well as in some coastal areas like Blackpool, Hull and the Isle of Wight were more likely to move school in-year, the RSA said.
The figures also suggest much of the increase was among children who had been placed with new carers, were from refugee or asylum-seeker families, were moving after a family breakdown, or who had had difficulties at a previous school.
A breakdown by ethnicity suggests in-year admissions are highest among Eastern European, Black African and Irish Traveller pupils.
Mr Hallgarten said: "Despite its potentially regressive impact and wide-ranging implications, the practice of in-year admissions has been largely under-explored."