Guides oath change consultation gets 30,000 responses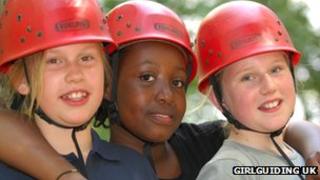 More than 30,000 people have so far responded to a Guides consultation on whether to remove references to God or the Queen from the joining promise.
Guides currently pledge: "I will do my best, to love my God, to serve my Queen and my country, to help other people and to keep the Guide law."
Guides and non-members have until Sunday to respond to the questionnaire.
"We know feelings are strong and wide-ranging," said Girlguiding UK in a statement.
"That's why everyone's opinion matters...
"We would like to hear from even more people - from inside and outside guiding. Please join the conversation".
Alternative wordings
Girlguiding UK launched the consultation because it said it there were increasing numbers of girls and leaders "who struggle with the wording... particularly in interpreting what it really means to girls today".
The voluntary organisation, which has more than half a million members, particularly wants to hear from the girls themselves: "It is important that girls and women understand and believe in the words they say when they make the promise."
The promise has changed 11 times to reflect changes in society since guiding was first founded in 1909.
Possible alternatives to the current wording include, "do my duty to God", "be true to a higher ideal" or "serve the highest truth and love faithfully at all times".
The Church of England has urged Girlguiding UK to keep God in the promise.
"In a society where is it increasingly 'uncool' for young people to believe in God or any 'higher power', it is important that there are still places where they can be encouraged to explore and develop their own beliefs.
"It is important that girlguiding offers opportunities for spiritual development," said Canon Shelia Bamber of Sunderland Minster, a former faith adviser to the guides.
Religious beliefs
Last year a survey by Girlguiding UK suggested that some 70% of primary-aged girls believed in "a god". The figure for 11- to 21-year-olds was 55%.
But Pavan Dhaliwal, of the British Humanist Association, said: "These figures show that substantial numbers of young people do not have a religion, and other surveys such as the Citizenship Survey, the British Social Attitudes Survey and research by the Department for Education puts the proportion of non-religious even higher, at between half and two thirds.
"Those with no religious beliefs could make a hugely positive contribution to the movement if Girlguiding UK were to drop this aspect of the pledge and open up membership to all."
Alternative options for the current mention of the Queen include having "serve the Queen" instead of "serve my Queen", or "engage myself with responsibility in the community I live in" or "be true to my country".
Last month, the Scout Association announced its own consultation on an alternative Scout promise for atheists who are unwilling to pledge a "duty to God".
Last year the Girl Guides in Australia dropped their allegiance to both God and the Queen, agreeing to serve their community and be true to themselves instead.